Looks like the paladins will be forming Voltron a little later than we thought.
Despite previously being given a late 2016 date, it was revealed during the Voltron Legendary Defender panel at New York Comic Con that the season won't actually premiere until January 20th, 2017.
Even with a later release date, fans were still excited to see the cast and crew behind the show. Panelists included executive producers Joaquim Dos Santos and Lauren Montgomery, writer Tim Hendrick, and voice actors Jeremy Shada (Lance) and Bex Taylor-Klause (Pidge).
Fans at the panel also got a major sneak peak! The NYCC audience saw a special screening of Season 2's second episode, "The Depths." The episode followed Lance and Hunk after being separated from the rest of the paladins in the Season 1 finale and landing in a new, underwater planet.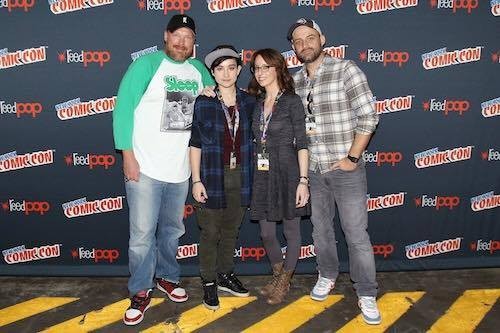 Dreamworks
After the episode, fans were also treated to small clips of Pidge by herself after the crash, as she was not featured in the episode. Pidge ended up in an garbage-like planet by herself while Keith and Shiro ended up in an yet-unknown planet together.
They also revealed that Weird Al Yankovic was a guest voice actor in the episode, playing one of the characters from the underwater planet.
The Voltron Collective was discussed: a new partnership with Acme, Bait, Brooklyn Projects, Han Cholo, Illest, Lion Forge and New Era. The project includes products from each of these companies, like hats, shirts, and comic books featuring art from the show. Products are available both online and at the show. Fans at the convention can stop at these various booths to pick up special Voltron patches!
Voltron toys were also introduced, including a new partnership with Playmates Toys, which will be released in January 2017. The line features each of the paladins and their lions, which can later come together to create Voltron itself.
Voltron Legendary Defender is currently streaming on Netflix. Season 2 will premiere on January 20th, 2017.