Well hello there, Terminus! It's the October day we've all been waiting for: the return of 
The Walking Dead! 
And let me tell you what, it was possibly the best series premier we've seen yet. The action kicked in from the start, and it didn't let up until the very end. I had so many different thoughts and feelings during this episode that I felt like I was watching 
Parenthood
, not a show about the zombie apocalypse. Though, I must say; the roller coaster ride wasn't completely unwelcome. Stick with me, Deadheads. We've got a whole lot of ground to cover. We start out with a "THEN" caption. In this scene, the people from Terminus are actually in the boxcar. They say: "We shouldn't have put up those signs. What the hell did we think was going to happen?" They go on to discuss how "we brought them here" while there is audible, anguished screaming in the background. Garreth is in there and he says they were trying to be human beings, doing the right thing by offering sanctuary. So apparently this placed USED to be sanctuary, but another group came and did terrible things to the people there? More on that later, I'm sure. Now we're back to the present with the group in the boxcar. We've got Eugene and company in there now, they're talking about DC. Sasha asks if they've seen Tyreese. Daryl tells Maggie that Beth was taken in a black car and that he tried to follow it, but that she IS alive. I guess they're just all catching each other up. I kind of like that. While they're doing that, they're also suiting up preparing for a fight, getting weapons together and whatnot. But the Terminus folks were ready for them. They open the top of the boxcar and drop in a gas bomb that puts them all on their asses. They get Rick, Daryl, Glenn and Bob out of the boxcar and take them into a warehouse where a body is on a slab being worked on by two people with a hand saw.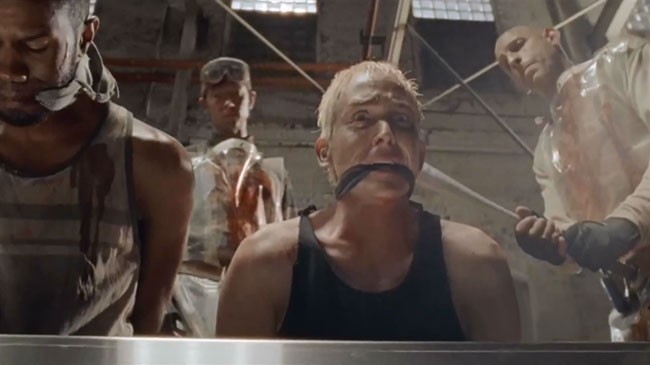 Telezkope.com
Four people from the other boxcar are also dragged in and those four, along with Rick, Daryl, Bob and Glenn, are lined up kneeling in front of a trough. (Oh, and one of the guys [above] from the other boxcar was the blonde hippie that Carol and Rick stumbled upon when they were on a supply hunt last season. His girlfriend got eaten and then they never saw him again. He's also the same actor that plays The Penguin in the new show, 
Gotham). 
The guys from the other boxcar are first. Two guys behind them: one with a bat and one with a knife. They knock the guys out with the bat then slit their throats over the trough. I assume to dry them. Before they get to Glenn (the first in line on the trough after the four unknown dudes), Garreth comes in and interrupts. Bob tries to talk some sense into Garreth, but to no avail. Garreth does talk to Rick, though, wondering what was in that large blue blag he buried in the woods outside Terminus. Rick tells him to spare Bob's life. Which, okay? Looks like he's gonna die anyway. But whatever, I mean obviously they're not REALLY gonna die, so, moving on. Garreth gags Rick again and the two goons in the back are ready to start draining our guys when we hear gun shots and explosions. Annnnnd commercial break. When we get back we see Tyreese, Judith and Carol walking the tracks to Terminus when a walker appears. Tyreese says he still can't kill them at which point Carol quickly points out that he's going to need to get over that real soon. She makes quick work of the walker only to discover a herd coming their way. They go to hide, which seems completely freaking pointless since I'm sure they smell like delicious Southern delicacies to the zombies; but they too are saved by the gunshots as the zombies are lured away from the vulnerable trio. They come across a guard house with one guy and a walkie talkie. They take him into the house after they hear him talking about Michonne and Carl. He tries to talk his way out of it, but Carol can smell bullshit from a mile away. She leaves Tyreese with the tied up man and Judith and goes to scope out Terminus for herself. Well, first she takes a zombie guts bath and practices her lumbering gait. She's going in as a walker.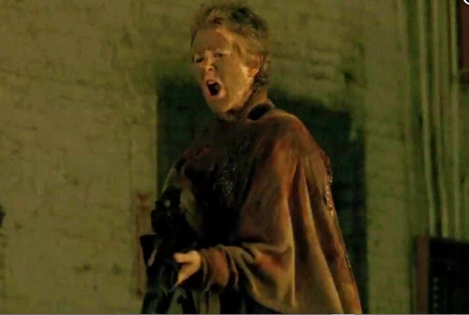 Sanjamac.tumblr.com
Dude hanging with Tyreese is a certifiable creeper. He's asking about Judith and talking about getting used to zombie apocalypse. He tells Tyreese there's no point in keeping him alive, and that keeping him alive is no help to him. He tells Tyreese to take Judith and take the car and go. Foreshadowing? Obviously. Carol has come to the fence and she sees the Terminus guys dragging Rick, Glenn, Bob and Daryl out of the boxcar.She takes to the perimeter to check out the scene and she sees the Terminus people discover the herd coming. That's when she decides to blow up the gas tank. She does so thereby, not only taking out some of the Terminus people, but creating a gaping hole for burning walkers to enter the encampment. Now we're back with Tyreese and the creepy dude. But honestly they're boring right now, so we'll go back to Terminus. Daryl, Rick, Bob and Glenn are alone with the goons and Rick finally gets free and kills them both. He frees the other three and they make quick work of everyone and leave the rest of them there to turn. The group left behind in the boxcar (Maggie, Eugene, Sasha, Tara. etc.) realize that something is going on but are still stuck in the car. Carol has entered the camp with the rest of the zombies and takes anyone out shooting at her before they even realize she's alive. Rick, Glenn, Daryl and Bob go to release people from the other boxcar so that they can retain some of their humanity. There's only one crazy dude in that car and he quickly gets a bite taken out of him so I'm not sure what his significance was. Though he was saying "We're the same, we're the same;" so does that mean that he's a cannibal now, too? Oh well, doesn't matter, he dead. After the commercial we see Carol checking everything out. She stumbles upon Daryl's crossbow and see the room where they take all their prisoners first. We shoot to Rick, Daryl, Glenn and Bob and see them take out, not only a gaggle of walkers, but a large group of Terminus people too. Then  Carol ends up in the temple room with all the candles when one of the Terminus people corners her and tells her to drop her weapons. Of course, she's Carol, so she doesn't listen and shoots at the bitch instead. They have a bit of a scuffle and Carol ends up with the gun, which, of course she did. This woman goes on to explain to Carol how it came to be what it was. She says it was a sanctuary but that people came and they raped and they pillaged and that they got the message: "You're the butcher, or you're the cattle." So basically, eat or be eaten. She said it wasn't that at first, but that was it had to be, and because of that they're still here. Except, really they're not, because then Carol left the woman who couldn't run away in a room and opened it up to the walkers. So, buh bye. Tyreese is an idiot. You had one job, Tyreese; ONE. JOB. Protect Judith! Creepy dude has his hands on Judith and is threatening to snap her neck unless Tyreese goes outside amidst the walkers. So out he goes. Creepy dude is feeling real good about himself right now, and goes to check out how Tyreese did when T storms the room and beats him within an inch of his life. Back at the boxcar now, and Sasha asks Eugene what the cure is. He tells them it's classified and Sasha calls his bullshit. Eugene explains he was a part of a ten-person team at the Human Genome Project that was commissioned with fighting weaponized diseases with weaponized diseases, or fighting fire with fire, if you will. He is keenly aware of a way to kill every living person on the planet. He believes he can flip that script in DC and instead take out every dead, walking person on the planet. But they need to get to DC for that to happen. As soon as Eugene ends his spiel, Rick bursts through the doors and saves the day...kind a. I mean, he does bring them into a firestorm of zombies. But they're all prepared for that. They clear the path for the most part and make their way to a fence and quickly GTFO. Terminus is ablaze, hopefully with most of its inhabitants inside of it. They go back to their supplies in the woods and Rick says they're going back to kill the rest of them. The rest of the group is not on board with this idea, and tells him they will not be going back there, when Carol walks up behind the group.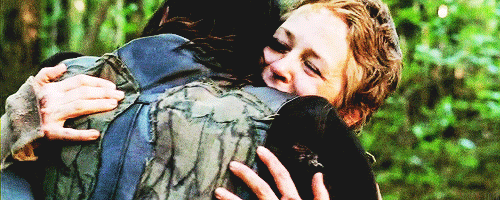 Authorityalwayswins.tumblr.com
Daryl runs up and nuzzles her like a puppy and it's the cutest thing ever. Rick hugs her too and asks if she's responsible for their epic getaway. She confirms it, then tells him and the rest of the group that they really need to follow her.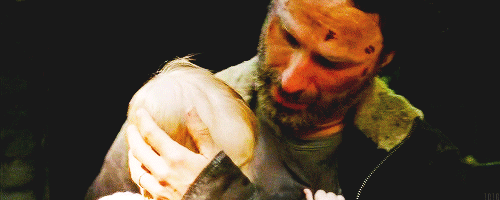 Authorityalwayswins.tumblr.com
At this point, I'm already a little teary eyed. Then Rick spots Judith and Sasha spots Tyreese and the tears are now freely flowing. They gang is all together again! And an episode that seemed utterly dire to begin with actually turned into zombie apocalypse's most precious family reunion. Seriously, just the cutest.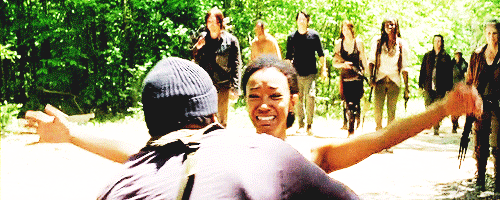 Authorityalwayswins.tumblr.com
They have a bit of a discussion and then they go on their way, deciding that they need to get as far away from Terminus as possible. They make their way along the tracks and Rick alters one of the Terminus signs to says "NO Sanctuary" and covers up the rest of the propaganda; hopefully preventing anyone else from traveling there to seek shelter. We go back to a flash back of "THEN" with the Terminus people in the boxcar. They pick a girl to, I assume, rape, as she is wailing "not again." Garreth tells him mother that they're going to take it back, and that he's finally figured it out: "You're either the butcher, or the cattle." And that's it! BUT WAIT. Is it? So we watched the previews for next week's episode and they were fine, you know, previews are previews. But after that, they took a cue from Marvel and gave us an extra scene. That's right, MORGAN HAS FOUND THEM! He sees Rick's altered signs and his marks on the trees and is on the scent. So I guess we can expect Morgan to be a part of the group now, yeah? I'm cool with it.
Jaynesbunk.tumblr.com/
Soooooooooo, yeah. I mean, wow. I remember my last few recaps of the last season going something like this: "Nothing happened. This is stupid. This show is stupid. Robert Kirkman is stupid. Everything is stupid." Well, Kirkman has shut me up but good with this episode. Now it's just a matter of whether he can keep this momentum going because dayum. This episode was beyond amazing. Until next week, Deadheads! Stick with me, I'll be recapping alllll season.
Keep Up With PopWrapped On The Web!
Twitter  SoundCloud Facebook Instagram Tumblr Pinterest YouTube