Walmart has had a long-standing policy of price-matching their brick-and-mortar competitors and on November 13th, the retailing giant announced it would match select online competitors, including Amazon. This was clearly a decision they did not think through, however, when pages started popping up on Amazon selling the Playstation 4 console for $90.
The problem here
stems from the fact that the Amazon Marketplace allows any registered member to set up a selling account and create authentic-looking pages listing items for sale and
the ads were not legitimate
. This incident is coming hot on the heels of another as last week when Sears listed Wii U and Nintendo 3DS bundles for only $60 as the result of a glitch on their website and shoppers were quick to take advantage.
Walmart quickly caught on to the PS4 scam
and updated their online matching policy as a result and the fraudulent Amazon listing seems to have been removed from the site. The updated price-matching policy now specifies that it will not honor any prices or listings of third-party marketplace sellers, auction sites or sites requiring membership.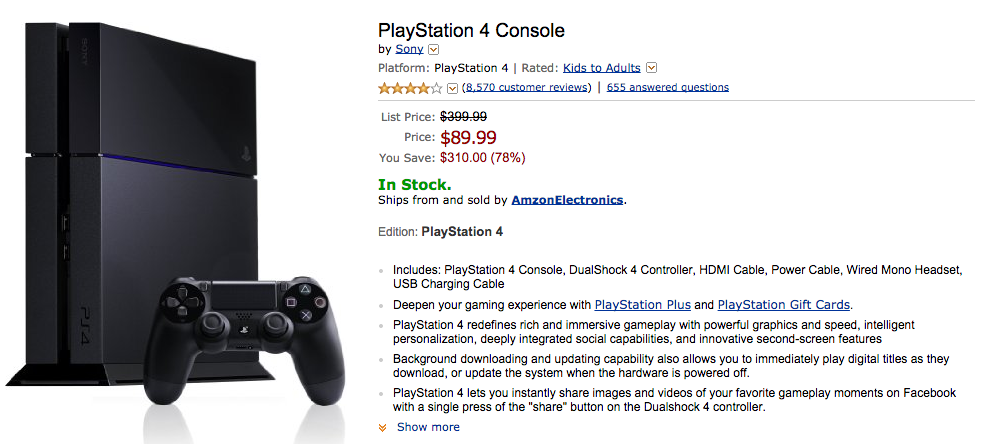 Courtesy of kotaku.com
A spokesperson for Walmart told CNBC on Wednesday, "We can't tolerate fraud or attempts to trick our cashiers. This kind of activity is unfair to the millions of customers who count on us every day for honest value." With holiday shopping in full swing, this sort of
price-matching scam
will certainly not be the last. Many retailers have similar price-matching policies and incidents like these will likely result in retailers taking a harder look at the fine print of
these policies
to ensure the honesty of their customers. So if you plan to ask for a price-match, you might want to be prepared to supply more proof of the price you're asking to pay.
Keep Up With PopWrapped On The Web!