Are you unemployed? Was your dream to be an astronaut but maybe you just didn't have "the right stuff?" Well, now is your golden opportunity to work for NASA! You won't be piloting the shuttle into space or working in mission control but you will be assisting in some very important work by
laying flat on your back
! That's right! NASA will pay you $170 per day as a test subject helping scientists:
Show how much your body, tilted down slightly with head down and feet up, for 70 days, 24-hours a day, without getting out of bed, except for limited times for specific tests, is like an astronaut's body during the weightlessness of space flight. Watching you will help scientists learn how an astronaut's body will change in weightlessness during space flight in the future.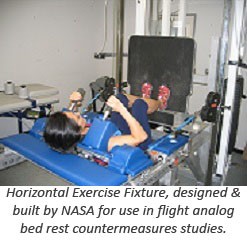 NASA
You will be expected to relocate to Texas for the duration of the test. With pre-testing and post-testing, total amount of time spent in Texas works out to be about 15 weeks and total compensation is
$18,000
. If you spend all day loafing around on your couch, don't get your hopes up too high. NASA is looking for healthy test subjects. Candidates are put through a rather strenuous physical exam and there are psychological tests as well.
Dr Roni Cromwell
, senior scientist on the bed rest study said, "We want to make sure we select people who are mentally ready to spend 70 days in bed. Not everyone is comfortable with that. Not every type of person can tolerate an extended time in
bed
." A previous test subject, Heather Archuletta
told Forbes
, "Even when it was sometimes challenging, I tried to remember I was doing this for astronauts, so that we can keep them more healthy in space. The day I got up, after being in bed for 54 days [the study was cut short by Hurricane Ike], my feet hurt like crazy walking for the first time! But, I reminded myself, this is what astronauts go through, too." It may not be as glamorous as being an astronaut and you will be in bed for a couple months but the time you put in during this study could prove to be invaluable and you would be doing your part for the space program. And you will have NASA on your resume and that is awesome. If you're interested in applying for the study, go to the
NASA website
for more information.
Keep Up With PopWrapped On The Web!