Inspired by the various works of Stephen King, the first teaser for Hulu's Castle Rock was released online this week. While the series isn't following any one of King's books, it will instead take various ideas from all of them and put them in a TV series, and while you'd think a teaser would clarify what that will look like…it really doesn't.
That's not to say it's a bad teaser! It definitely sets us up for some kind of spooky, eerie mystery that needs to be unravelled. André Holland's character returns to Castle Rock after a mysterious call from Shawshank Prison. And…there's a monkey mask. And someone's got a dog. Apparently "something terrible is going to happen." A lot of people look…concerned…
And Bill Skarsgård is there! When the series and its casting was first announced, everyone noticed that it seemed like too much of a coincidence that he played Pennywise the Dancing Clown in the latest and extremely successful adaptation of King's It, but a closer examination of the cast reveals he's not the only actor from a previous King work to appear. Sure, he's the most recent, but the cast also features Melanie Lynskey (Rose Red), Terry O'Quinn (Silver Bullet) and of course Carrie herself, Sissy Spacek.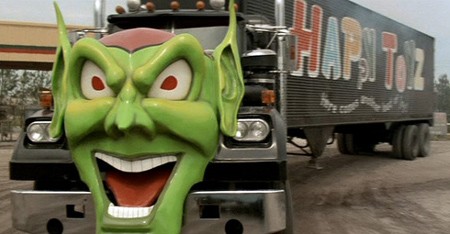 Maybe the evil truck from Maximum Overdrive will show up?
So who knows? The casting choice could just be one of many callbacks that don't necessarily influence the plot at all. Honestly, even with the released footage, everything is still so delightfully vague at this point that it's hard to tell where things will go. And considering the entertainment industry's bad habit of giving away as much as possible in the trailers, that's not necessarily a bad thing.
J.J. Abrams is producing the series which will hit small screens this summer…so looks like we'll have to sit tight until we can really dive into this latest mystery!