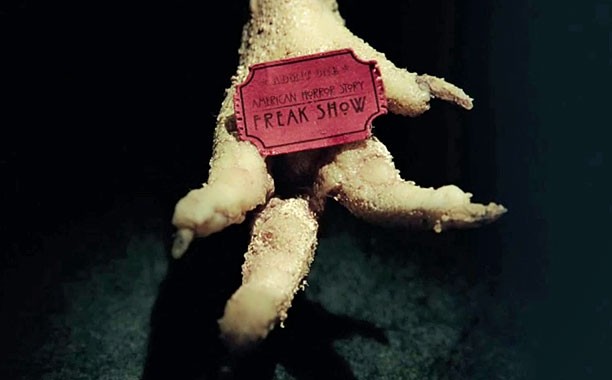 Courtesy of: Entertainment Weekly
After months of anticipation, the highly acclaimed horror anthology series premiered the newest incarnation,
Freak Show
, and it lived up to the name. We begin with a milkman arriving to desolate area in Jupiter, Florida in 1952. When no one answers the door, he takes it upon himself to investigate and steps in to make his delivery (very considerate) and discovers a set dinner table, the lights out, and a butchered woman. What he finds strikes fear amongst everyone but remains hidden early on. Doctors find four lungs, three kidneys, and two hearts which disturbs everyone in the hospital. Elsa Mars (Jessica Lange) strolls in with curls, cigarettes, some sort of monkey fur coat, and an inquisition on this unnatural person admitted. We next see Elsa in the candy striper garb, (don't fuck with this lady) and she sneaks her way in to meet Bette and Dot tattler, the conjoined twin anomaly found earlier (Sarah Paulson).Where others see a monstrosity, Elsa sees a goldmine. We quickly see the different personalities of Bette and Dot as Elsa probes them about personal information, one naive, one more aware and scorned.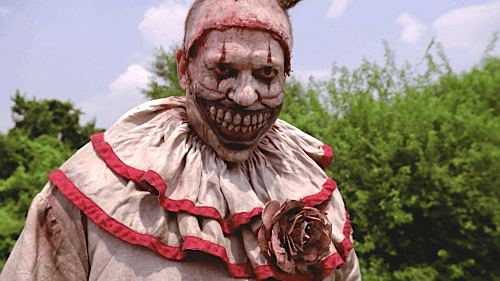 Courtesy of: DiamondPop.tumblr
We're taken to a lake outside of Jupiter where a young couple are in the middle of a romantic picnic. When the boyfriend goes to get something special for his lady, a disturbingly creepy clown arrives covered in dried blood and an unsettling smile. The clown stands face to face with the girl offering flowers along with a spot in my nightmares, before pulling out juggling items he uses to knock the pair unconscious. The girl comes to, and witnesses her boyfriends brutal death while the clown stabs him repeatedly. She attempts to run, but a straight shot of the clown sprinting at her doesn't bode well for the young newly single blonde. Elsa locates Jimmy (played by Evan Peters) at a diner, and in a leather jacket and hat to boot. Jimmy explains that he knows they are being forced to move their show, however Elsa claims to have bought some time (oh, that flirt Elsa!). When the two have a blowup with everyone noticing, he storms out and when Elsa is asked to pay the bill she scoffs and replies "darling stars never pay" before pulling a dine and dash like a true diva.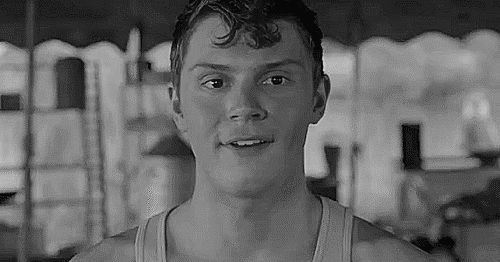 Courtesy of: Malsaud.tumblr
Shortly after, Jimmy's additional job becomes known and is one of multiple...talents... as ladies one at a time enter a dark hallways leading into a dim room with the hunky Evan Peters sprawled out. He shows of his elongated and abnormal "lobster hands" that he uses to... please the ladies. You'll just have to see for yourself folks. Dot and Bette attempt to pass a story on how their mother was found murdered, which turns out to be a movie plot and Elsa advises they think of a new strategy. The city listens via radio about a murder and kidnap (performed by the grisly Twisty the Clown), which involed killing a mother and father but then however, kidnapping the child. Twisty has the creepiest little backwoods camp in an old van draped in vines, with colorful balloons hanging from the tree above. The blonde teenage girl from before is shown to be captured with the young kidnapped boy, and Twisty returns resulting in the girl pleading for their lives. The menacing clown begins to attempt humor with tricks, and begins to form a balloon animal that pops, leading Twisty to lose his shit and wreck havoc in his hideout. Issues much?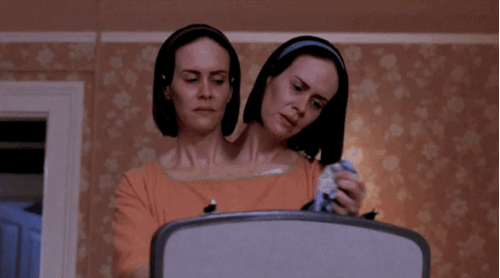 Courtesy of: Ahorrrorstoryfreakshow.tumblr
Elsa tracks down the twins, who have escaped the hospital in order to prepare to flee town. Elsa figures out that they actually killed their mother (which is during an argument and done by sweet little Bette) because she felt hidden and sheltered. The two enter the circus with Elsa, now having nowhere to run, and others show hope that maybe the girls will bring the customers and profit they need. Bette journals how much joy she feels being adored by the others, loving the notoriety of a celebrity, but Dot on the other hand longs for solitude. Both siblings can agree on one thing however, and that is that Jimmy is both charming and handsome. Kathy Bates character is introduced (Ethel the bearded lady and mother of Jimmy) who explains a companionship and fondness of Elsa Mars. Pepper appears, and she seems to be the only recurring character on the series, as she's also a patient of
AHS Asylum
in the future. Some of the troupe is taunted by a car full of men calling them freaks as they set up a poster to bring in customers, and I just want to hug them each individually. When the candy striper appears next, she feels disheveled and wants to make her account of the situation public, that leads Elsa to blackmail her with a video of the girl participating in what seemed like drug use and group sex. Apparently those carnival folk have some extremely unusual and plausibly immoral party ideas. Jimmy wants to leave and lead a normal life which his mother doesn't foresee and his animosity for "normal people" begins to show in waves. Bette and Dot are later found and arrested (accused of murdering their mother along with Twisty's victims) but Jimmy stands up and summons others to rally. When being called a freak yet again, he cuts the detectives throat in anger thus saving the twins who he tells, "you're gonna save US".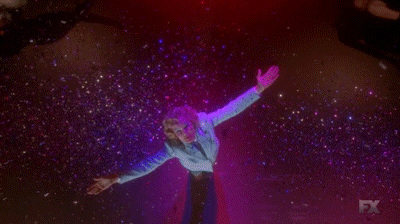 Courtesy of: Anarchyandhorror.tumblr
The two "pinheads", the smallest woman in the world, and the Siamese sisters are introduced before Elsa takes center stage in a powder blue suit and matching eye shadow singing "Life On Mars" accompanied by instruments. While she sings a sword swallower, and gymnasts add to the effect as purple confetti flows, covering Elsa and the stage until we realize it was all in her head, leaving her alone on stage to dwell on her dreams as a performer. When the attendee's Gloria and Dandy Mott (an oddly blunt mother and son played by Frances Conroy and Finn Wittrock) offer to buy the Siamese sisters for her son, Elsa declines $15,000 saying they are family, a sentiment now shared by the girls. The mother and son leave bitter, but not before hurting Elsa's pride by insulting her voice. One of the seven deadly sins, I believe? After everything dies down they take the body of the detective and Jimmy rallies the troupe members to stop anything that gets in their way, they all begin to simultaneously chop up the remains and let off some steam but Twisty lurks in the background showing some definite animosity towards the newcomers. Ethel attempts to give Elsa the pep talk she needs, showing the two have a deep connection and admiration for each other. When Elsa finds herself alone, she plays a record with tears down her face staring off into nothing, before undressing an unhooking her prosthetic legs. To conclude the episode, we see Elsa sit alone crying as she presumably thinks of the career she so desperately desires, while the music plays in the background.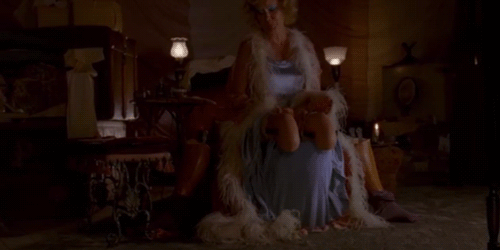 Courtesy of: Ahorrorstoryfreakshow.tumblr
Aedan's Final Thoughts- -Elsa not only dresses like a diva, but has the attitude and likability to match. -Jimmy is an interesting character, who seems to have a dark future looming. -Twisty the clown officially becomes one of the most terrifying clown adaptations EVER. -Sarah Paulson can basically do anything asked of her. -I'm all for the Jessica Lange performances this season. -Horror is back in that suspenseful, slow-burn effectiveness that I love.
Keep Up With PopWrapped On The Web!
Twitter  SoundCloud Facebook Instagram Tumblr Pinterest YouTube