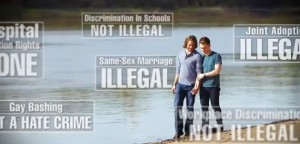 Courtesy of YouTube/ABC
Ben Patton
Senior Manager
@CincyBen
Good 'ol Mississippians hailing from the "Hospitality State" were on  full display in a recent episode of ABC's
What Would You Do,
hosted by John Quiñones. Locals in Vicksburg, Mississippi were put to the test when hidden cameras and a crew of actors were placed inside a restaurant to test the reactions of patrons to a gay couple's public display of affection. The couple was portrayed by actors (one of which is truly gay) and with an anti-gay customer (also an actor) placed near them to help stir up the emotions and opinions of the restaurant goers. The duo caressed, held hands and exchanged sweet kisses that resulted in a mixture of reactions and feedback from some very opinionated and not necessarily hospitable Mississipians. Though, when a straight couple was introduced showing just as much, if not more, PDA everyone was elated and supportive.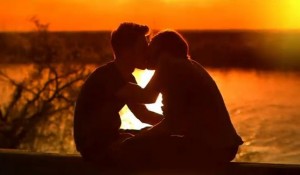 Courtesy of YouTube/ABC
While many of these reactions had religious foundation, some were just plain ridiculous. Facetiming with thumbs down actions, photos and blatant mockery of the couple? If God was your motivation against these two, judging and laughing at them hardly seems the appropriate response. Despite the negativity, the college students at the end succeed in making up for the rest of the crowd and may in fact bring you to tears. [embed]http://youtu.be/55BFSUxiuxA[/embed] I'm thinking ABC should consider a "What Would Jesus Do" episode... What do you think about all of this PopWrappers?
Keep Up With PopWrapped On The Web!