Unless you're an active YouTube watcher, you may not be familiar with Marina Joyce. But, if you've been on the internet today, then maybe you saw the hashtag #savemarinajoyce. This hashtag was  started by Marina's fans recently in an attempt to uncover what could be a very scary story...or just a stunt.
Marina Joyce is a British fashion YouTuber, and this could-be conspiracy began when she posted this video. Thirteen seconds into the video, fans believe that she whispered "help me." From there, the internet spiraled...
In typical Twitter mob-mentality, the theories went from zero to one hundred real quick. Fans started pulling up recent pictures and noticing bruises on her body, weird figures in her videos, chains on her body and more. The leading theory was that Marina Joyce had been kidnapped and was being forced to maintain her videos. 'ISIS' was thrown into the mix.
And right when this theory started growing, Marina tweeted this:
https://twitter.com/MarinaJoyce7/status/758072430145462273
Yes, because meeting at six in the morning doesn't seem sketchy at all.
By then other YouTubers started getting involved, advising not to attend this, though there was still no solid proof of anything malicious. In fact, quite the opposite, as the local police even tweeted that they visited her house and that Marina is fine.
When Marina Joyce got word of the hashtag a few hours later, she tried to calm her concerned fans by tweeting:
https://twitter.com/MarinaJoyce7/status/758213689635844096
And then she tweeted that she was going to do a livestream, which really only added to the theories, ironically. In her stream, she seemed to lose her train of thought, and she looked rather scared, though perhaps that was just her general quirkiness. But fans were even more concerned. In the stream's live comments, fans were begging her to do secret signals if she wasn't okay (like make a heart with her hands) and went ballistic when she actually did the signals.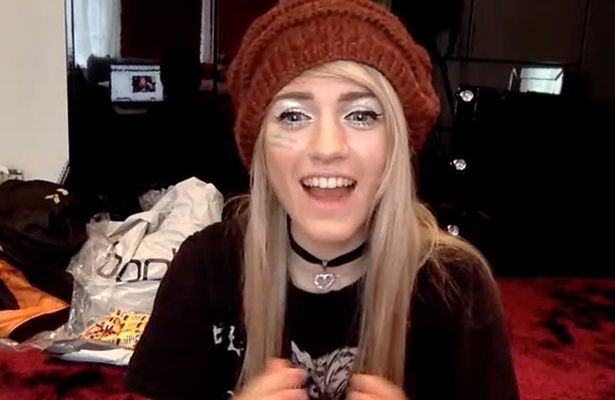 mirror.co.uk
But this was all in the morning. Through out the day, as the news started picking up on the crisis and looking into it, as well as other YouTubers who personally knew Marina, it became fairly clear that the 19-year old was perfectly fine.  She even did another livestream later on, trying to clear up even more. With all this proof, and even with Marina retweeting an article from The Sun, it seems that it was in fact just a really crazy publicity stunt. After all, just today did she reach one million subscribers, which she wasn't close to two days ago. Though I personally have doubts that she planned all this.
Hopefully Marina Joyce and other YouTubers take this as a learning lesson in how to conduct themselves in their videos and how NOT to gain publicity. Their fans love them and scaring them in such a way is not pleasant.