Pricilla Kumar
Staff Writer
it's pretty much a done deal
.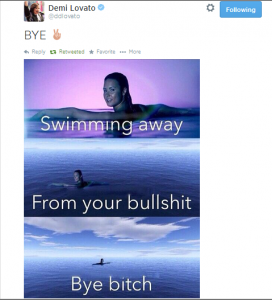 Gomez and Lovato have somewhat of a rocky relationship. In a "Bye Felicia!" type moment, Demi posted a cryptic tweet that read, "Swimming away from the bull---t bye B---ch." Gomez and Lovato have been friends since they were young and talked openly about their union in the March issue of
Seventeen
magazine. But it is not all bubblegum and gum drops in this friendship. Gomez has had her fair share of rifts with the ladies. She also has an on-and-off again relationship with Taylor Swift and had gotten close to the Jenner sisters, Kylie and Kendall. However, that relationship turned sour when Selena removed them from her friends list on Instagram after the sisters put their paws on her man the Biebs during Coachella. And we all know the mess of a relationship she has with the Biebs all too publicly. Here is hoping that Gomez finds some peace and friendships that last longer than a few weeks. I am siding with Demi on this one and agree that swimming away from the sharks seems to be the only way you can stay afloat.
Keep Up With PopWrapped On The Web!