Kayleigh Falvey Staff Writer
@KayleighsDiary
Mashable
has unveiled the
"10 Super Fandoms That Put Your Internetting to Shame"
in a recent article, and you won't be surprised at who has made the Top 10. Beyoncé's ever-devoted fan base took the 1
st
spot. Beyoncé and her fans have been in the spotlight recently, after she
dedicated a performance
of her song "XO" to her fans saying, "I'd like to dedicate this song to my fans – I love you all." HBO series
Game of Thrones
was placed in second, between Beyoncé and
The Walking Dead.
The series, which is adapted from the
A Song Of Ice And Fire
series of novels by George R.R. Martin, became one of the most talked about series' in 2013, all because of a wedding.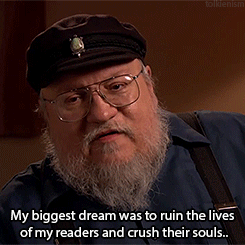 Courtesy of hodorhodorhodooor.tumblr.com
According to dailydot.com
,"Even if you didn't know anything about Martin's fantasy series,
A Song of Ice and Fire,
before 2013, by the time the penultimate season 3 episode aired in June, you probably knew that the Red Wedding, whatever it was, was
coming."
But Beyoncé wasn't the only person who made it into the list;
Sherlock
star Benedict Cumberbatch took the 6
th
position in the list with his fans, so-called "Cumberbitches", using Tumblr to praise and generally fan-girl about the actor.
Courtesy of ramazanova-zalina.tumblr.com
Although Cumberbatch has always been grateful for the support that his fans show him, he told the
Huffington Post
that he finds the term "Cumberbitches", "subservient and demeaning". Other shows that made the list were
The Walking Dead, Doctor Who, Breaking Bad
and Netflix favourite
House of Cards.
Keep Up With PopWrapped On The Web!
http://www.PopWrapped.com
http://www.Twitter.com/PopWrapped
http://www.SoundCloud.com/PopWrapped
http://www.Popwrapped.Tumblr.com
http://www.Facebook.com/PopWrapped
http://www.Instagram.com/PopWrapped
http://www.Pinterest.com/PopWrapped
http://www.YouTube.com/PopWrapped