Carleen Slon
Staff Writer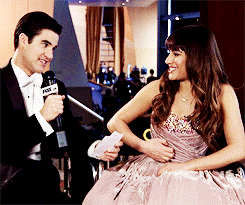 Courtesy of Tumblr
Questions ranged from:
What was the longest running musical in 2000?
What is Patti Lupone's real name?
to; Who even played Maria and Tony in Glee's West side story episode?
In Tuesday's new episode Criss and Michele will be singing a duet from the musical Follie's classic Broadway Baby. The song was written by Stephen Sondheim. You can check out the video and play along here. [embed]https://www.youtube.com/watch?v=wnTtfqMWUPE&feature=youtu.be[/embed] Who do you think will win? Did you get any questions correct?
Courtesy of Tumblr
Glee is all new Tuesdays at 8pm on FOX
Keep Up With PopWrapped On The Web!