The aftermath of Kim Kardashian West posting "that" nude selfie was sadly, achingly predictable. It didn't take long for self-righteous citizens to voice their disgust, calling her all manner of horrible names like "whore" and "slut." They criticized her abilities as a mother, some even going so far as to Photoshop Kim into another bathroom with a bathtub and what appeared to be a drowning baby in the background and the caption, "B**** over here taking a selfie and North is drowning." Other responses to Kim's picture equate the image to pornography, perpetuating the archaic notion that a woman's body is something to be hidden away in shame. These responses from the public are far more shameful than any image of a nude woman could ever be.
But even with the positive responses, Kim felt compelled to let people know that the image in question was taken over a year ago. For some odd reason, women are conditioned to justify their beauty with their age and circumstance in the eyes of those who can appreciate it as if to say, "We are not worthy of your praise because ..."   
Kim's response to the negative criticism, however, was thoughtful, articulate and absolutely perfect:
I am empowered by my body. I am empowered by my sexuality. I am empowered by feeling comfortable in my skin. I am empowered by showing the world my flaws and not being afraid of what anyone is going to say about me. And I hope that through this platform I have been given, I can encourage the same empowerment for girls and women all over the world.
I am empowered by my husband, who is so accepting and supportive and who has given me a newfound confidence in myself. He allows me to be me and loves me unconditionally.
It always seems to come back around to my sex tape. Yes, a sex tape that was made 13 years ago. 13 YEARS AGO. Literally that lonnng ago. And people still want to talk about it?!?!
I lived through the embarrassment and fear, and decided to say who cares, do better, move on. I shouldn't have to constantly be on the defense, listing off my accomplishments just to prove that I am more than something that happened 13 years ago.
I am a mother. I am a wife, a sister, a daughter, an entrepreneur and I am allowed to be sexy.
And Kim is right, it always comes back to the sex tape. Back in 2003, Kim was just a young socialite in California with wealthy, famous parents and more wealthy, famous friends. So, even without the sex tape, chances are good Kim would have eventually landed in the limelight anyway. But Kim did something dumb, something countless people have done -- she made a sex tape with her boyfriend. And in 2007, the tape was leaked, without her knowledge or consent, and sold to Vivid Entertainment by a third party for $1 million. The company quickly turned around and started selling the tape online. Kardashian took them to court, as the daughter of a world-famous lawyer would, and fought to get the rights to the tape. But Vivid argued that because they purchased the tape, they had the legal right to distribute its contents. The case was settled out of court, and Vivid Entertainment paid Kim $5 million and agreed to remove the tape from distribution by the end of May 2007.
In spite of the settlement, as we all know, the internet is forever, and people have very long and unforgiving memories -- at least when it comes to the women involved in a sex scandal. But what about Ray J. -- you know, her marginally famous musician ex-boyfriend also seen in the tape? Ray J. has avoided much of the sting associated with the tape and managed to create quite a career from it himself. In 2012, he wrote a book called Death of a Cheating Man: What Every Woman Must Know About Men Who Stray. In the book, Ray J. tells all about his relationship with Kim, referring to her as "KK," right down to her "freaky" nature in the bedroom.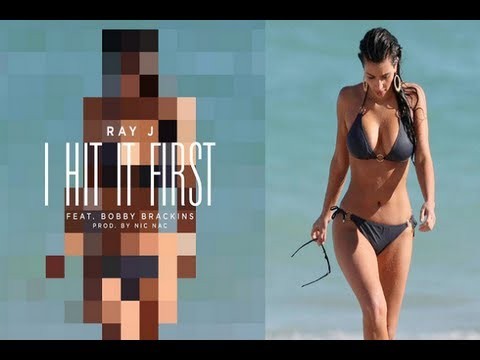 YouTube
And, in 2013, he put out a single, "I Hit It First" and hired a Kim K. lookalike to star in his video. The cover art for the single only further demonstrates Ray J.'s attempts to capitalize on his past relationship and remind people of the infamous tape -- his biggest claim to fame. And the comments section on his official YouTube channel hosting the video are packed with insults aimed at Kardashian and crediting Ray J. for "giving her a career." So, while Kim is regularly criticized for profiting from the sex tape, people ignore the fact that Ray J did and still does. According to reports, he received an initial $300k as compensation from Vivid Entertainment and then additional money every time the video was downloaded or sold. In fact, as recently as 2014, it was reported during that year, Ray J. received $90k in profits every three months from the sex tape. 
But the target has been painted squarely on Kim's back in this case like a big, glaring scarlet letter A. People may argue that they are just sick of seeing her in the media, and that's fine because there's a very simple solution for that -- don't look. But, of course, a
s Twitter becomes its own reality show with a cast of millions, people sit back in the privacy of their own homes, handing down their little judgements in 140 characters or less and crossing their fingers that they'll receive some sort of validation for their wit in the form of "hearts" or retweets. People call each other ugly names and then delude themselves into believing they are better human beings than the woman with her clothes off. As much as her critics contradict Kim's motivations for sharing the image, claiming she's just trying to get attention, they are guilty of exactly the same thing.
But, at the end of the day, all women are entitled to feel empowered by their bodies and their sexuality, they are entitled to speak about it publicly, they are entitled to own their bodies, and they are entitled to work towards removing the stigma of female nudity. A woman's body isn't pornographic -- it's natural, it's human. Get over it!