The Mindy Project first aired in 2012 and has amassed a modest 80 episodes (even surviving being cancelled by Fox and later picked up by online streaming site Hulu). Written, directed and staring Mindy Kaling the show highlights the life of the fictional Mindy, who is a doctor attempting to deal balance her work, personal and social lives. What is set-up to be a regular sitcom actually sets the scene for one of the most prominent feminist characters in recent memories.
Mindy is not your average sitcom character, and due to her amazingly written development we finally see an on screen woman with all the layers of a true modern woman.
In earlier seasons of the show Mindy loves men, but mainly in a one night stand kind of way; she is having too much fun in her social life and trying to develop her career, whilst looking amazing in great outfits.
In the later seasons, she gets engaged and has a baby. But as Season Four's mid-season hiatus approached, Mindy is doubting if she can be with Danny (her fiancée) as he believes she cannot run her own business while simultaneously raising her baby. Mindy does not agree; she believes she has worked too hard to give up her career. Mindy is shown to deal with sexism against her, from people doubting her skills as a doctor or breast feeding on the subway and being forced to leave.
Mindy is without a doubt one of our feminist icons, she is written in a way to inspire and to show that as a woman you can be funny, smart, sexy, and that you can care equally about relationships, clothes and your career: you don't have to pick and choose how you show your feminity, and Mindy shows all aspects of this.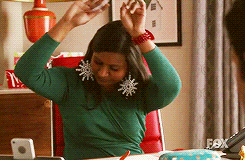 giphy.com
We can't wait to see how Mindy Kaling writes her namesake character in the upcoming seasons, and we can't thank her enough for creating such an inspiring character!