With NBC's 
The Voice
monopolizing our televisions (two seasons a year now, a la 
Dancing With the Stars
), you might be hard-pressed to remember which of your favorite newly discovered singers were on which season with which coach and… forget all that. It's what those artists do with that catapulting momentum after that show is over and the real reality show begins. Picture yourself walking into a dimly-lit, yet intimate venue on LA's Sunset Strip, aptly named after (one of your) favorite caramel-colored liquors, the famous Whisky A Go Go. Now I'm usually not a betting man, unless it's on which reality show contestant can go all the way, and I bet against myself, in Oreos. However, if I had to guess which eclectically-influenced 
Voice
season 5 finalist would have chosen this spot to perform tonight, I'd put all my Oreos on Will Champlin. From the moment the doors opened, Will could be seen mingling amongst the early attenders, bouncing around from bar to booth. There was an eagerness to his step, one that you might not get to see from an artist who sequesters themselves to a green room. For one of his first live shows since The Voice Tour ended this past summer, Champlin brought along some of his good friends, and talented artists, Keaton Simons and Belmont Lights. This being my first Champlin show and not knowing the opening performers, the new-music-junkie in me was ready. Los Angeles local,
Keaton Simons,
opened the show with a raspy soundcheck, using the ominous lyric from his song "Inspiration": "if you want to find inspiration let it find you." With that, I was able to get a feel for the type of show in store. Simons then blew the house down with a bluesy rock set, including the soulful single
"Beautiful Pain".
Next up was the San Diego-based band 
Belmont Lights
, who soon got my attention following up their opening song with a mashup of Sam Smith's "Stay With Me" and Usher's classic "You Got It Bad". Lead singer Isaiah has a voice like a punk-infused The Weeknd to an R&B-meets-Imagine Dragons experience when he helped out on his solo drum. The Peek brothers, Casey and Jed, as well as their drummer, Chad, brought their full-out energy on 
Empyrean Kings
EP faves like "Raise Up", "Running On Desire", and the eerily rousing "White//Red". The guys even treated us to three new songs from an upcoming release, including the break-up anthem "Faded". Belmont Lights proved they were no stranger to the cover/mashup as they gave new life to MJ's "Dirty Diana", and later intermingled Aaliyah's "Are You That Somebody" with "Wrecking Ball", featuring a brief opening by Frank Ocean's "Thinking 'Bout You". Needless to say they were added to my Spotify "Soulful Sangin'" playlist right then and there.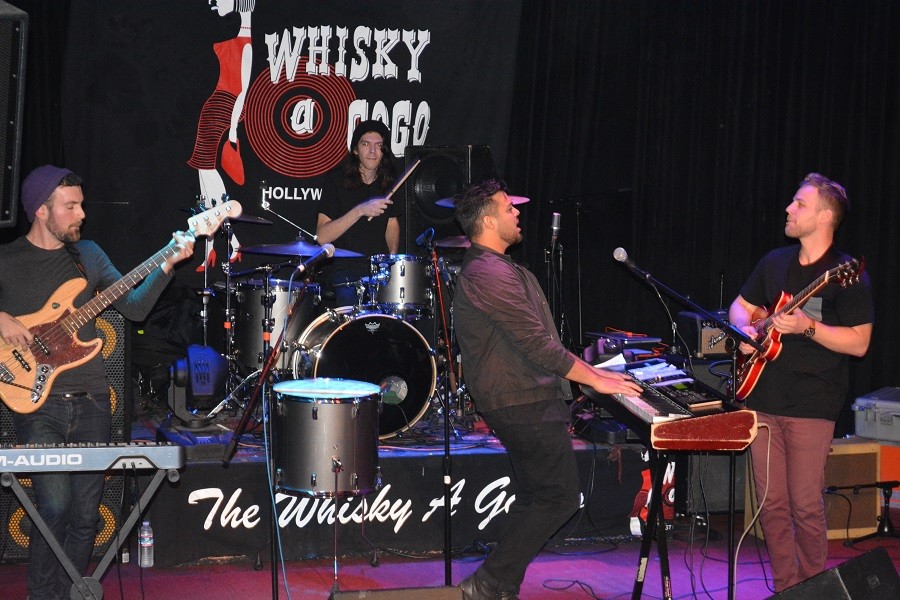 Belmont Lights
In between sets, Champlin was meandering through the audience, welcoming friends, family, and fans (or Champs as they've been self-proclaimed). With his vocals high and his trusty keyboard at his fingertips, Will opens his set with the first single off his debut album, "Eye of the Pyramid". It's a song that in
previous
interviews he's described as "electro dubstep with rock and ethnic elements is who I am." "Last Man Standing" rolls in with a beautiful love story true to his life: "Pretty momma know we're in this together now / But how does it get so crazy? Tryin' to raise our baby". Will begins a pattern of keyboard-banjo-guitar from song to song, and "One Shot" was the perfect choice to bring in the banjo phase. The chorus packs a punch with each four-count and details the struggles of getting one shot in life, from a life as a fighter in war to life dealing with alcoholism, which you can see
explained here.
 Starting slow at first and then surprisingly turning uptempo after the first verse, "Borrowing Time" was next and is both the title track of his new album, and I quote, his "favorite song to perform." A few of my personal favorites came soon enough. Stomping and chanting along with the banjo, "Heat of Passion" has been haunting me (in a great way) ever since HBO snagged it for their
fall trailer
 last year. Also, "While We're Young" is that carefree, coming-of-age song (it was
inspired by
 the cult classic movie 
The Goonies
) with a synthesized beat in the chorus that adds that Will Champlin feel. In the end, Will slows it down with "Breathe", a song where we all seemed to just know the words to "use my lungs and breathe, take these eyes and see." Even before the first note, the songwriter lets us know that "there's a time for power, and a time to show your soul." Check out Will Champlin
here
and follow all his social medias because you won't want to miss him the next time he's in town! [gallery type="slideshow" ids="77717,77718,77719,77720,77721" orderby="rand"]
Keep Up With PopWrapped On The Web!