This is a very interesting choice. 
After his breakout roles in "We're The Millers" and "The Maze Runner", actor Will Poulter is setting his sights on scaring the crap out of everyone as his next gig. Poulter has been tapped to play Pennywise the evil clown in the upcoming New Line remake of the Stephen King classic "IT". If you'll all recall, legendary actor Tim Curry brought the role to life in the original.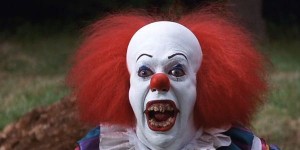 Guff.com
Director Cary Fukunaga is set to helm the two film adaptation. What do you guys think? Is Poulter the right choice to play Pennywise? They couldn't possibly have Curry back.......could they?