Who doesn't like free things?! Free is certainly my favorite flavor, and I know I am definitely not alone! We, along with Disney-Hyperion, want to give you Jennifer Donnelly's fantastical Waterfire Saga series for nothing more than a few tweets! Oh, we'll throw in some nail polish, too (pictured above)!
If you're not familiar with Donnelly OR the Waterfire Saga series, you can check out our interview with the gracious author here.
If you're STILL not sure, check out a summary of the most recently-released installment below (you may also read a full excerpt here):
Once a lost and confused princess, Serafina is now a confident leader of the Black Fin Resistance (BFR). While she works on sabotaging her enemy and enlisting allies for battle, her friends face challenges of their own. Ling is in the hold of Rafe Mfeme's giant trawler, on her way to a prison camp. Becca meets up with Astrid and learns why the Ondalinian mermaid is always so angry: she is hiding a shameful secret. Ava can't return home, because death riders await her arrival. And it is getting more and more difficult for Mahdi, Serafina's betrothed, to keep up the ruse that he is in love with Lucia Volerno. If Lucia's parents become suspicious, his life--and all of Sera's hopes--will be extinguished. Political intrigue, dangerous liaisons, and spine-tingling suspense swirl like a maelstrom in this penultimate book in the WaterFire saga.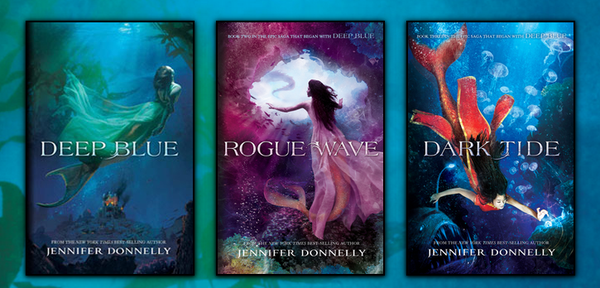 Disney-Hyperion
Mermaids? Fantasy? Subterfuge? Feminist and environmentalist undertones? Sign. Us. Up.
What do you have to do to win this stunning prize, you ask? SIMPLE! All you have to do is head over to the @PopWrapped twitter and tweet your little hearts out! We'll send it out a few times throughout the week, and a winner will be chosen at random one week from today, Friday, October 23rd.
So ready those keyboards and get to tweeting! 
Learn more on waterfiresaga.com.
Giveaway open to US addresses only.
Prizing and samples provided by Disney-Hyperion.