Jack the Ripper is possibly one of the world's most iconic and mysterious historical figures. A serial killer who terrorized London late in the 19th century, The Ripper was never identified and his victims never avenged. 
How can one possibly re-imagine this story, you may ask? Kerri Maniscalco and James Patterson are here to answer that for you.
Patterson, one of my very favorite authors, has launched a new children's imprint, called JIMMY Patterson books. Their mission is simple:
"JIMMY Patterson is a mission to support and champion books and reading. James Patterson will invest all his proceeds from the sales of JIMMY Patterson books into pro-reading initiatives. (To find out more about these initiatives, please click here.)"
As if you didn't love him already, right?!
As you can imagine, Mr. Patterson is quite selective about his talent. That's why I can tell you with the utmost certainty that you will enjoy this book if you're a fan of the genre. Stalking Jack the Ripper is smart, sharp and thrilling, will keep you begging for more and will leave you befuddled that someone (Kerri Maniscalco) could tell this tale again so masterfully.
The official summary states:
"Seventeen-year-old Audrey Rose Wadsworth was born a lord's daughter, with a life of wealth and privilege stretched out before her. But between the social teas and silk dress fittings, she leads a forbidden secret life.
Against her stern father's wishes and society's expectations, Audrey often slips away to her uncle's laboratory to study the gruesome practice of forensic medicine. When her work on a string of savagely killed corpses drags Audrey into the investigation of a serial murderer, her search for answers brings her close to her own sheltered world.
The story's shocking twists and turns, augmented with real, sinister period photos, will make this dazzling debut from author Kerri Maniscalco impossible to forget."
You're hooked already, right?
Stalking Jack the Ripper is Maniscalco's debut novel, and I am quite certain we will be hearing much more from her in the future.
Not only do our magnanimous friends at JIMMY Patterson Books want to give you this book for free, they're throwing in a gorgeous, anatomical heart necklace.
See for yourself: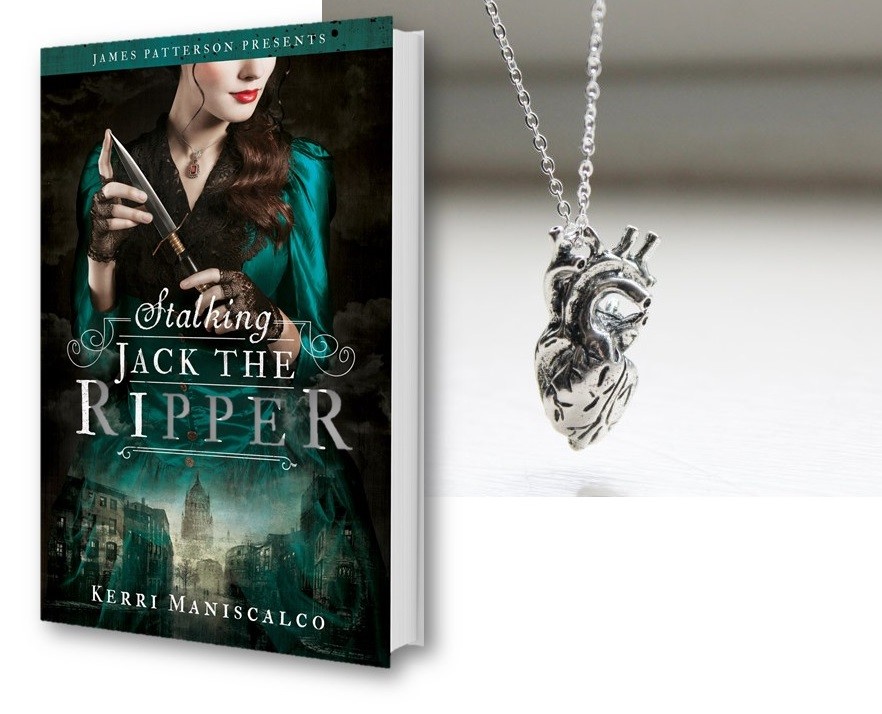 JIMMY Patterson Books
To be the proud new owner of those beauties above, all you have to do is share on Facebook or Twitter with this story link, @PopWrapped and #StalkingJacktheRipper. See? Easy peasy.
Visit KerriManiscalco.com Stalk Kerri on Facebook and Twitter Stalk JIMMY Patterson on Facebook and Twitter
Giveaway open to US addresses only.
Prizing and samples provided by Jimmy Patterson Books.