While there are currently hundreds of different types of conventions around the world that cater to all walks of life, there hasn't been one dedicated to the badass women in the horror and science fiction genres... until now. Seeing a marvelous opportunity to bring strong women together in a single place to celebrate each other's accomplishments in a predominantly male-friendly environment, Crystal Taylor and company have created WiSHCon. PopWrapped was able to take a few minutes of Ms. Taylor's crazy day to sit down and discuss the new, women-centric convention coming to Columbus, Ohio this November.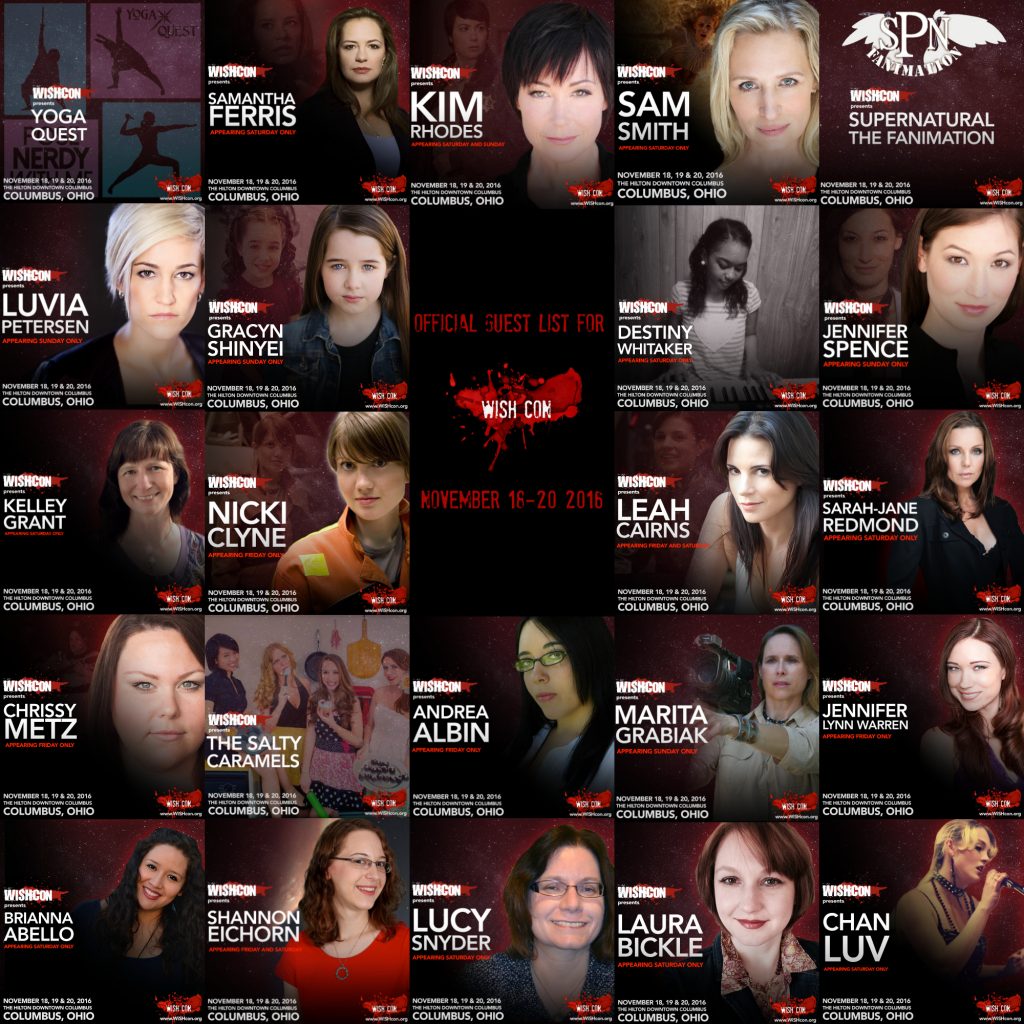 WiSHCon
PopWrapped: Hi! Could you please introduce yourself to the world, including what makes you tick, and of course, what fandoms you subscribe to?
Crystal Taylor: My name is Crystal Taylor and I'm the chairperson of the Women in Sci-Fi and Horror Convention which is based in Columbus, Ohio. I'm a fangirl myself, loving shows like Supernatural, Fringe, True Blood, Firefly and others in the sci-fi realm. I realize that some of those are also horror...
PW: WiSHCon started from an Indiegogo fund, did that campaign go well for you to help get this convention off the ground?
CT: It started well before the Indiegogo campaign, but yes, that was our first run of fundraising for this event. It went fairly well, and we got some exposure for the event; it definitely helped get us to the amount we needed to secure our venue, that's for sure. Everyone that donated… they're our angels. They were, and still are, so excited about the convention, and passionate about letting others know about us. Our supporters are total superheroes.
PW: You're one of the co-founders of WiSHCon, and this is the inaugural year for the convention, why did you decide to take the stress of con-building onto your shoulders?
CT: Well, to be frank, I honestly didn't realize what all it took to plan and fund a convention. I was quite naïve going into all of this – we all were. So when the idea came about to have a multi-fandom event whose sole purpose was to celebrate the accomplishments of women in sci-fi and horror, it was something that I looked at as a challenge. I enjoy a challenge, I just didn't fully see the vast challenge that was laying out before us.
The true reason it came together in the first place was that women in Hollywood, whether you're an actress, director, writer, and so on, do not get the recognition that they deserve. Just as it is in business all over the world, equality in pay and celebration is scarce, and it shouldn't be. To put it plainly, I was tired of going to conventions and events wanting to see my favorite women actors, writers and creators, and not being able to because it is a "man's" world. I was tired of seeing the heroes of shows and movies always being a man who had to save the damsel in distress. That is the heart and soul of why this multi-fandom event even came about.
PW: Being a con-goer yourself, what are you hoping to have at WiSHCon that you don't particularly like while at other cons?
CT: With any event, you need organization, but I've been to some conventions that are so organized that they're uptight and seem cold. Very strict in their approach. I'd very much like to have ours a little more laid back. I'm not saying drop the rules all together, but let's take a breath and just enjoy each other's company. We're all fans of the women we have as special guests, and we want both the fans and those guests to be able to relax and have a good time. We want everyone to feel safe as well. This is not something that is common practice, or at least, not as common as you'd think. Our guests and their fans shouldn't have to worry if someone will help them if something happens. There shouldn't be a worry about arguments and tension. Now, don't get me wrong, we can only do so much to control that due to human nature, but rest assured things like bullying or harassment will not be tolerated at all.
I'd also like for the fans to know who we are as a board. They should see our faces walking the crowd and working right alongside our volunteers. Sure, we may not always be present publicly, but when you see us, we're working. We won't be sitting backstage just relaxing, this is our company and we want to be out there in the thick of it all. That's not typical of a lot of conventions, and we're going to change that.
PW: What sparked the creation of WiSHCon and what do you hope to get from building this gathering of positive female figures in horror and sci-fi?
CT: As I touched on a little earlier, it really boiled down to not being able to meet my favorite Women from my favorite shows. These women play/played extremely strong characters that were quite important to the story, yet they were nowhere to be found even though their male counterparts were headlining every city and event. That didn't make sense to me. It was incredibly frustrating. After seeing that this was affecting more than just one fandom, we started to really look into it and it was overwhelming just how much that sort of thing happened. Now that we're 8 months into it, we've learned so much about just how uneven Hollywood is in general. We all know that equal pay in the usual business world is not happening, but in Hollywood, it is even worse than that. I don't want to dive too deep into that though, because our guests have a lot to say on that subject. I'll let the women who experience tell those stories themselves.
PW: What's one cool thing about your convention that makes you stick out from the others?
CT: There are a few things, but what I really want people to know is that unlike other conventions that are around (not all, but a good number), we're not looking to overprice things to make a buck. Our prices were determined solely by the amount of money it will take to run the event and pay our guests. No one on the board or assisting the board is making a salary or being paid in any way. It's highly likely those of us that spent our own money to make it happen, won't even be reimbursed for a year or two, and we all get that. All we want to do is make this event happen and bring more awareness to women's contributions in the entertainment industry.
PW: Most of the guest list is television-based, are you looking to stay just in that medium in the future, or expand the guest list to include film, radio and internet figures as well?
CT: I think we'll definitely expand our reach into movies for sure. There's definitely a need for that. Right now though, we're just focusing on making this first year happen. We're only a short time away from the event and we have such a long list of items to accomplish before we get there.
PW: YogaQuest is a neat addition to the convention, giving guests a place to try out yoga for the first time, or unwind for the 100th time; how were you able to bring their nerdy fun to the con?
CT: To be honest, it was a fan suggestion. When we first started posting on Twitter about our convention we had several people say, "Hey, you should totally check out YogaQuest", and the next thing I know, I'm exchanging very long and detailed emails with one of the founders so we can work it out and make their attendance possible. I think it's such an incredible concept and it fits so very well with our theme. We're very much hoping to see a lot of people getting tickets (which are very inexpensive) to their sessions, and just unwinding a bit.
PW: Are there any particular performances or panels you'd like to throw into the spotlight during WiSHCon?
CT: We're very proud of all of our panels and guests, but we'd really like to see a massive turn out for our Saturday Night Concert featuring a young lady from North Carolina, Destiny Whitaker. There's also a young woman who is so badass at what she does, that she doesn't even need anyone else to play instruments, Chan Love. Finally, our headliners, The Salty Caramels, is an all-woman band who have a unique sound, and 4 very talented members. What better way to let loose and have fun than with a couple of drinks and some amazing music?
PW: Finally, we  have to know... if you had to choose between only sci-fi or only horror for the rest of your life, what would you pick?
CT: I'm not a big horror fan, I get spooked pretty easily, so things like The Exorcist or The Conjuring are something I just can't hack. The Nightmare on Elm Street and Friday the 13th kind of stuff, sure, bring it on around Halloween. Give me a good sci-fi, or even a bad, cheesy sci-fi, and I am down to watch it any time.
Be sure to head over to the official WiSHCon website to catch up on all the updates about the convention. You can also easily grab your tickets from their website, and book your hotel room just mere feet from where the convention will take place, inside the gorgeous Hilton Columbus Downtown. You can also check them out on almost every media platform known to man, whether it be Twitter, Facebook, Tumblr, and YouTube