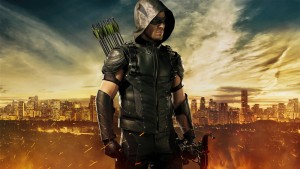 Courtesy of CW
If ever there was a perfect time for Stephen Amell to have some fun with the re-invention of his character 'The Arrow' or 'Green Arrow' as he's now known, it had to be Comic-Con this past weekend.
So, what did Amell do? Well, after attending a RAW taping back in May, he decided to create his own 'promo' piece to introduce himself to those fans lucky enough to be in attendance.
Evidently he enjoyed the experience so much, and what with him being such a keen social media user (check out his Facebook if you don't believe me), he opted to tweet about it, unaware he was about to evoke somewhat interesting and rather entertaining responses from two wrestling professionals.
https://twitter.com/amellywood/status/620373671853424640 https://twitter.com/mikethemiz/status/620394789062610944
What followed was an amusing Twitter exchange with Amell commenting "I have no idea who you are" to which he got this reply:
https://twitter.com/mikethemiz/status/620728325074493440/photo/1
Then and only then did Stardust choose to get in on the action, seeming to put Amell at the top of his hit list:
https://twitter.com/StardustWWE/status/620798196063830016/photo/1
Unfortunately, anyone hoping for further exchanges has been, for the time being, sorely disappointed as Amell, ever the gentleman, signed off by sending a congratulatory match-win message to the star.
Anyone actually want to see a three-way match between this lot? How about Stardust and Amell vs The Miz? I'd pay to see that!