Roxanne Powell
Senior Content Editor
got her own record
! 
Crush Songs
, her first LP, will be released through Julian Casablaca's label Cult Records on September 9th. That's only a few months away. Can we wait that long? Although she is now married to director Barnaby Clay, O did not always feel so loved. At the age of 29, she fell into the downward spiral every young adult knows well. Afraid she would never find love again, she wrote and recorded 
Crush Songs
in private.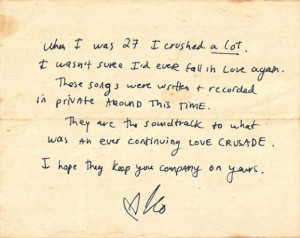 Courtesy of Karen O/ spin.com
O collaborated with her ex-boyfriend, Spike Jonze, on the soundtrack for 
Where the Wild Things Are
, and again on "The Moon Song" from 
Her. 
The latter was even nominated for an Oscar! She also covered Led Zeppelin's "Immigrant Song" with Trent Reznor, and recently collaboratively yodeled with Walter Martin for his kids song "Sing to Me." O's previous album, 
KO at Home
, was recorded as a gift for YYY's producer. But when he moved out of his apartment, he left the CD in a suitcase, where it would be picked up and shared with fans all over the Internet. Whether this was intended to be its final incarnation, we may never know, but we 
do 
know we can expect her newest slice of life to share some common strands. To ensure you get to hear Karen O's latest tunes,
go ahead and pre-order
a limited-edition, autographed vinyl copy!
Keep Up With PopWrapped On The Web!