Doctor Who has an undeniably massive following, including many young fans. One particular fan, 14 year-old Danny, missed last month's Doctor Who Festival in London because he was in the hospital, and was heartbroken that he couldn't attend. Thankfully, the geek community united and helped bring the Doctor to Danny.
Danny suffers from two medical conditions: Postural tachycardia syndrome (which affects his heart rate), and Ehlers-Danlos syndrome (a genetic condition that affects the body's connective tissues). These conditions have left him bedridden at a hospital in London, and necessitate feeding through an IV.
After hearing about Danny's condition, and learning that the massive Whovian missed the Doctor Who Festival, geeks everywhere united to help bring at least some element of Doctor Who to Danny at his London hospital. The hashtag #drwhodaniel was started by two geek-themed podcasters, Geek Syndicate and Bad Wilf, and quickly spread throughout the community.
Last week actress Frances Barber (who played Madam Kovarian) and former Doctor Matt Smith visited Daniel at the hospital, and showrunner Steven Moffat recorded a message for Daniel.
https://youtu.be/wAu4LHOff1g
Danny received an extra special visitor recently - the Doctor himself! Peter Capaldi visited Danny, and stayed in character (as the Doctor) for the entire visit. Capaldi as the Doctor showed Danny his sonic sunglasses, and explained that he was qualified to treat Danny as he had studied medicine at the University of Glasgow. Capaldi also shot a few quick videos with Danny. 
Here he introduces himself as the new Doctor on the ward:
https://twitter.com/dannywho99/status/674251208299802624
And in this one Capaldi shares his sonic shades:
pic.twitter.com/E0PdoFSXVd — Dannywho99 (@dannywho99) December 8, 2015
He also left Danny with one amazing autograph:
https://twitter.com/BadWilf/status/674283494982492160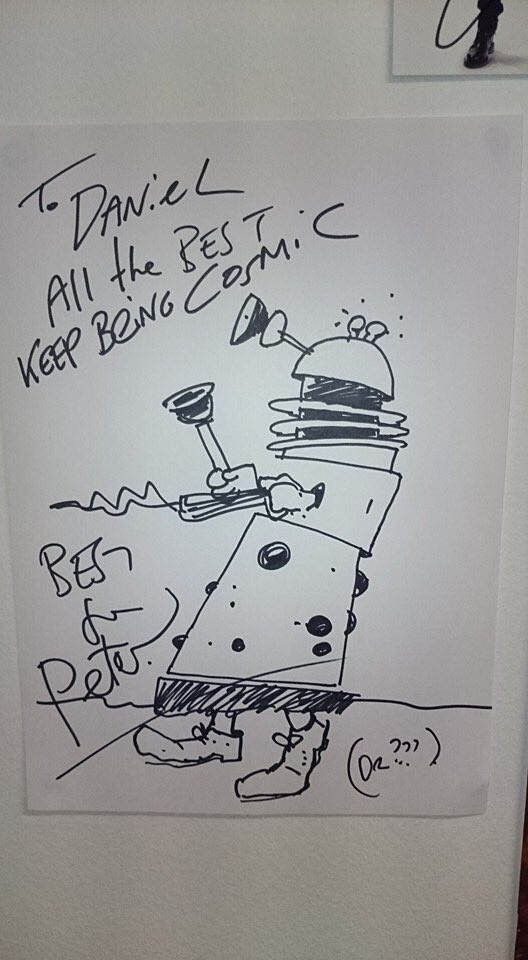 Twitter
Keep being cosmic, indeed.