New York rock outfit Coheed and Cambria have just announced their upcoming US tour. As their legion of loyal fans (myself included) can tell you, this is not one to be missed. Fans have been champing at the bit for this highly-anticipated tour for a few years now, and the time has finally come. The tour has been dubbed NEVERENDER GAIBSIV and will consist of the band performing their critically-acclaimed album, Good Apollo, I'm Burning Star IV: From Fear Through The Eyes of Madness.
In true Coheed fashion, the band posted a mysterious video to their Instagram account, then later to their YouTube channel. To Children of the Fence, this could only signal one thing: it's finally here. Upon further analysis, fans began to notice hidden messages within the flashing images. One piece of information was the date "1/24/17" and "pw: tenspeed" which now has been confirmed as the date of the tour announcement and likely the password for VIP and presale ticket purchases, set to take place tomorrow at 10AM local time. The general sale begins on January 27 and will be available for purchase here.
[youtube https://www.youtube.com/watch?v=1I8FHze79Mk]
Coheed and Cambria will be joined by progressive rock band The Dear Hunter for all dates on the NEVERENDER tour, excluding the festival dates sprinkled throughout the tour.
Check out the full schedule: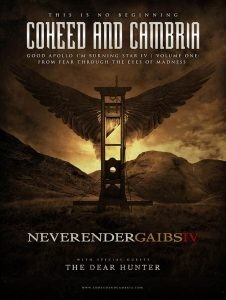 Coheed And Cambria
04/11 - Seattle, WA - The Showbox
04/13 - Portland, OR - Roseland Theater
04/14 - Oakland, CA - Fox Theater
04/15 - Los Angeles, CA - Hollywood Palladium
04/18 - San Diego, CA - Observatory North Park
04/19 - Tempe, AZ - The Marquee
04/22 - Salt Lake City, UT - The Complex
04/23 - Denver, CO - Fillmore Auditorium
04/25 - Austin, TX - Stubb's Waller Creek Amphitheater
04/26 - Dallas, TX - House of Blues
04/27 - Houston, TX - House of Blues
04/29 - Jacksonville, FL - Welcome to Rockville*
04/30 - Saint Petersburg, FL - Jannus Live
05/02 - Atlanta, GA - Tabernacle
05/03 - Nashville, TN - Marathon Music Works
05/05 - New York, NY - Terminal 5
05/06 - Silver Spring, MD - The Fillmore Silver Spring
05/07 - Concord, NC - Carolina Rebellion*
05/09 - Boston, MA - Blue Hills Bank Pavilion
05/10 - Philadelphia, PA - The Fillmore
05/11 - Royal Oak, MI - Royal Oak Music Theatre
05/13 - Minneapolis, MN - First Avenue
05/15 - Saint Louis, MO - The Pageant
05/16 - Kansas City, MO - Arvest Bank Theatre at The Midland
05/18 - Pittsburgh, PA - Stage AE – Indoor
05/19 - Chicago, IL - Aragon Ballroom
05/20 - Columbus, OH - Rock on the Range Festival*
*Festival show, No Neverender or The Dear Hunter
The NEVERENDER tour series started back in 2008, the namesake derivative of a popular track from their debut record, Second Stage Turbine Blade. The band traveled to four cities: New York, Los Angeles, Chicago, and London. Each stop consisted of four consecutive nights performing their first four albums beginning to end, in chronological order. This was quite a feat for the band and its crew, but one that started a never-ending thirst for more of this type of concert series. Since then, the band has continued the NEVERENDER tours but, instead, opt to perform one album  per tour, taking the show to a wider audience in more cities.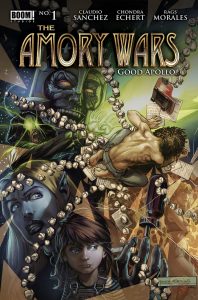 Boom! Studios
As if news of the tour weren't enough, Comic Book Resources announced that a 12-issue comic book series, The Amory Wars: Good Apollo, will be released. The series is written by frontman Claudio Sanchez and his wife Chondra Echert. Artwork for this series will be by the very talented hand of Rags Morales. Issue one will debut in April from Boom! Studios.
It's no accident that these two announcements are connected. For those who haven't yet been introduced to either the music of Coheed and Cambria or to the comic book saga of The Amory Wars, the two are also connected. Each volume of the comic book series has a musical companion, as the story is interwoven within sonic tapestries and vivid science fiction-based imagery. It is becoming more known just how powerful Claudio Sanchez's storytelling ability really is and well-deserving of the praise he and his universe have received.
The album Good Apollo, I'm Burning Star IV: From Fear Through The Eyes of Madness was the band's third studio record and major label debut with Columbia Records. Released in 2005, it was the most ambitious record the band had ever done at the time. It opened up opportunities for the successes they have subsequently achieved. The album peaked at #7 on the Billboard 200 chart and contains the hit single "Welcome Home," which is almost always the band's encore track performed during live performances.
[youtube https://www.youtube.com/watch?v=n0H3RlaQVrM]
So, Children Of The Fence, how excited are you to attend this NEVERENDER series? Share your comments below.