Many actors are known for playing iconic characters in movies, but what if scheduling conflicts didn't arise and studios got their preference? This list explores ten actors who were almost cast in iconic movie roles instead of the actors who we know in the part.
Will Smith as Neo (The Matrix)
It is a pretty well known fact that Will Smith turned down the role of Neo in The Matrix. I guess Smith wasn't The One. I can't picture the Fresh Prince replacing Keanu Reeves, can you? Smith himself told Wired that he "would have absolutely messed up The Matrix."
Nicolas Cage as Superman
people.com
During the '90s, Tim Burton was all set to direct Superman Lives, and Nicolas Cage was officially attached as Clark Kent. The film was cancelled, and Cage never got to save the day, but costume test photos eventually made the rounds online. Christopher Reeve and Henry Cavill are more known for playing the man of steel, but I think Cage could have pulled off a more gloomy Clark Kent torn between saving the world and protecting his identity.
Bill Murray as Forrest Gump
Several actors were offered the role of Gump, including Chevy Chase and John Travolta, who later regretted turning down the role. Bill Murray was also considered for the role, and it could have been a completely different performance. Tom Hanks made Forrest Gump an iconic character and classic film. With Murray at the helm, it would have just been another comedy film. Murray can be too polarizing for the film to have resonated so well with audiences and pop culture.
Tim Roth as Severus Snape
After Harry Potter and the Philosopher's Stone came out in theaters in 2001; it was impossible to read a Potter novel without picturing Alan Rickman as Professor Snape. Tim Roth was in for the role and probably would have done well with the part, too. However, Roth accepted a role in Planet of the Apes, and Rickman got the part of Snape.
Al Pacino as Han Solo
Harrison Ford is so deeply ingrained as Han Solo, I can't even picture Pacino in the role. At the time, Pacino was in demand and received offers for basically every part in Hollywood. According to a MTV interview, Pacino turned down the offer because he couldn't understand the script. Sounds like the right choice was made in this case.
Dougray Scott as Wolverine
Dougray Scott? The Scottish actor had been in Deep Impact, Ever After, and some other features at the time. Doesn't sound like the star power to rest the hopes of a franchise on like X-Men has come to do, but, in all fairness, Hugh Jackman was even more unknown back in 2000. Scott had shooting conflicts with Mission Impossible II and left the project. The studio preferred Keanu Reeves or Gary Sinise for the role, but, with the helping hand of Russell Crowe, Jackman would become Logan.
Jim Carrey as Edward Scissorhands
Edward Scissorhands is one of many oddball characters Johnny Depp would perform on the big screen. However, the role was almost given to comedian Jim Carrey. Admittedly, with Carrey being known for silly roles like Wiploc in Earth Girls are Easy, I wouldn't have cast him in a more dramatic role in dark Tim Burton film either. While Carrey has the physicality for the role, it wouldn't be until he starred in The Truman Show and, later, Eternal Sunshine of the Spotless Mind that audiences would see his dramatic chops. I'm glad casting went the way it did because I would not have wanted Carrey to get a taste for dramas and diverge his career before making several classic comedies throughout the nineties.
Tom Cruise as Iron Man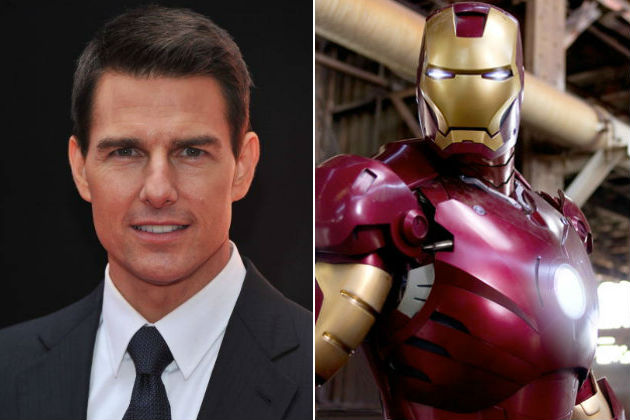 screencrush.com
I can almost see Tom Cruise as Tony Stark, but he doesn't quite have the same suave narcissism that Robert Downey Jr. brings to the role. Particularly for a character like Iron Man who has story arcs like "Demon in a Bottle", RDJ has his own experiences with substance abuse to draw from, whereas Tom Cruise got over-excited and jumped on Oprah's couch. I think Cruise would have made for a too clean cut Iron Man, which is not a good foil for Captain America in the Avengers movies.
Michael Keaton as Peter Venkman (Ghostbusters)
Perhaps one of Bill Murray's best roles, Peter Venkman was rumoured to be optioned to Michael Keaton. Years prior to donning the cape and cowl in 1989 for Batman, Keaton may have had the chance to bust ghosts in NYC. Although Keaton denied being offered the part in a 2012 interview, it is still fun to imagine him leading the Ghostbusters.
Sam Rockwell as The Joker
Heath Ledger's performance as The Joker became the benchmark for the insane Batman villain, and won Ledger an Academy Award. Christopher Nolan considered Sam Rockwell for the role along with Ledger, with producers choosing Ledger (obviously). Rockwell definitely has the ability to play a crazed psychopath like Joker, but I don't believe it would have been as memorable as Ledger's performance. However, many people criticized the casting of Ledger in 2006, and he proved everyone wrong. So, we'll never know what could have been with Rockwell as the Joker. Maybe worse, maybe better -- but what we got was great.
Is there anyone here who you think would have done the character justice? Or are you glad things ended up the way that they did?