God, I hope so.
I just came back from seeing Newsies, the hit Disney musical, at the movies. Yes, on a screen. No, it wasn't a bootleg. At the end of last year, Disney gathered most of the original Newsies Broadway cast as well as some of the touring cast members, and they put on the show live, but it was also professionally filmed. And for a few days this month, it was distributed across the nation thanks to Fandango.
I'm Canadian, so I was really doubting that I'd be able to see it. Fandango is American, and they say on their website that licensing can be hard. Luckily, Cineplex came to my rescue and set it to play across the country just twice.
I hurried to order tickets as soon as I could because there was no way I was missing this, and, with only two showings, I didn't want to take any risks. A normal movie ticket is around $12, but tickets for this, because it was a 'special event', were $21. At first I was miffed. I'm not even a fan of the $12 thing and make a point of going when theaters have cheaper ticket deals, but I knew for such an amazing show like Newsies it was worth it. Tickets for live theater can range anywhere from $30 to a several hundred, so I knew that $21 for what I was seeing really wasn't that bad. In fact, it's pretty good.
From several camera angles in perfect sweat-on-their-brow HD with flawless sound, fans of the show could experience Newsies in all its glory. It was magical.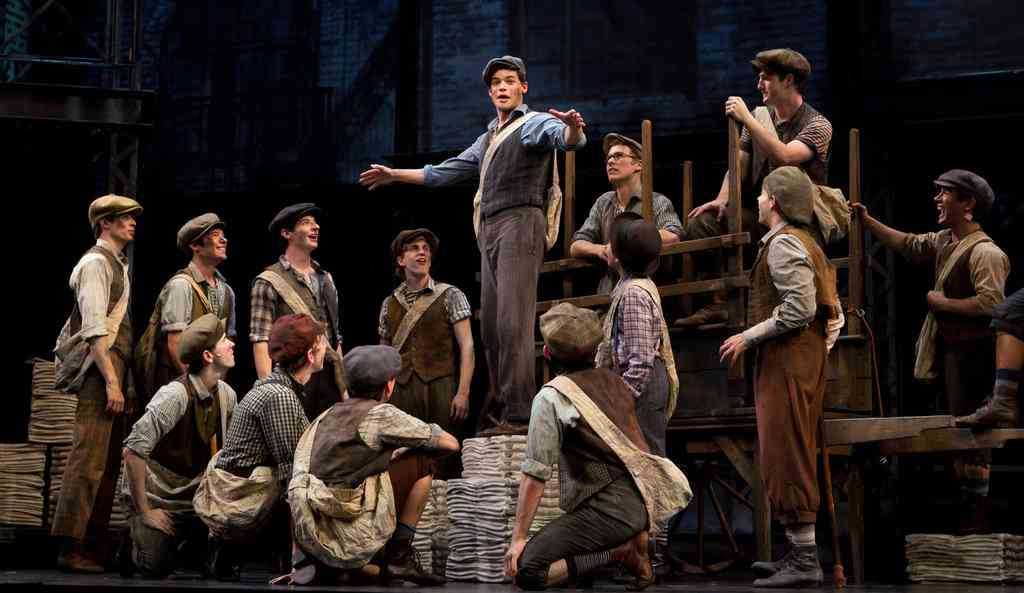 totalhollywoods.com
I'm lucky enough to have seen the show live on a tour stop two summers ago -- it's one of my favourites -- and nothing can compare to live theater, but the movie did things that a stage can't. While the energy of a live show was unmatched, the use of a camera allows viewers to see everything: every close up, every smile, every superb dance step, and those are things even front row seats can't always provide. The different angles kept things fresh and focused, but power was still felt at all the right moments. Whether you're new to Newsies or a returning fan like me, the movie was perfect in every way.
Another musical hit to make its way to theaters recently is La La Land. Though it's not Broadway-based, it did well at the box office and has already won many awards, proving that people do like musicals and will pay to see them.
It's no secret that Broadway is pretty inaccessible. New York City is but a dream to some, and tours don't go everywhere. Hamilton, the biggest show today, is about to open in LA and London and opened last year in Chicago, but when can I see it in Canada? It won't be for several years, that's for sure.
But you know what's easier than getting together a talented cast and a functioning set and touring around? A movie. I'm not asking for a film a week after a show opens on stage. But perhaps after a year or two, especially if the show has closed already, I don't see the harm in letting the far-away fans see it for a few days.
As I said, the Newsies movie didn't match the energy of the live show. It never will. Plus there was no Playbill and no stagedooring. But it's better than nothing and better than any bootleg.
Newsies will be in theaters again on February 22 in America and February 23 in Canada. I heard rumors that it is also playing in the UK, so look into that. Star Trek's George Takei also starred in a now-closed Broadway show called Allegiance that is hitting screens later this week in America and Canada. Go see these shows. Not only are they amazing quality shows for a great price, but, perhaps if they gain a lot of interest, more shows will be inclined to join the trend.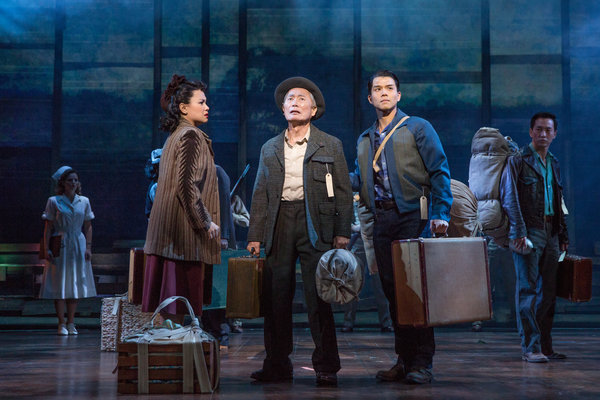 broadwaymusicalblog,com
Thank you to the cast and crew behind the Newsies movie for letting me once again enjoy this wonderful musical and for making it so accessible. I can't wait to see what's next.