To end his week abroad searching for tolerance and peace, President Trump met with Pope Francis at the Vatican on May 24th.
The meeting was long awaited, as the pair have clashed on several topics ranging from treatment of refugees to LGBTQ policies. Trump seemed nervous as he waited in the Saint Ambrose room before meeting with the Pope, and when the two shook hands the pontiff held a stone face. But following the President's tour for tolerance theme, the meeting went well and everyone seemed to lighten up. Only an interpreter was allowed in the Pope's private study during the 30-minute meeting. The President's family and a few staff members were present and exchanged pleasantries with the Pope.
On Tuesday night, the night before the meeting, many Italians and Americans in Rome staged Anti-Trump demonstrations. The police took a zero-tolerance approach and shut down any signs of disruption. Anticipation ran high as the two have been in active discussions from afar and are now brought face to face. But in what may be a sign of hope for peace and change, the encounter went smoothly.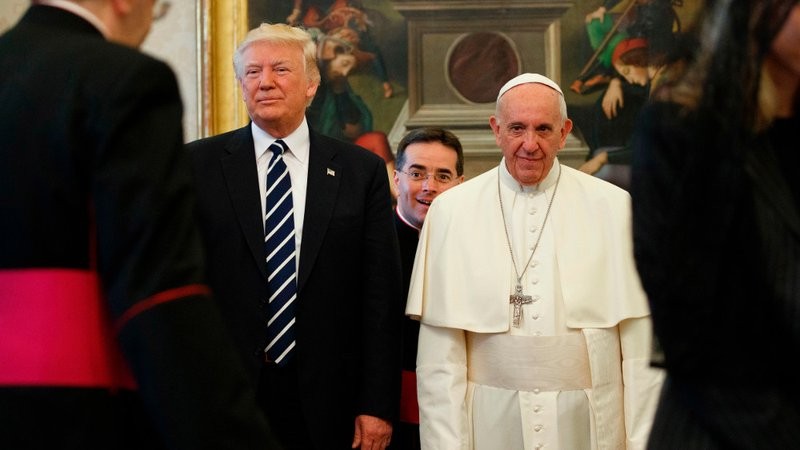 Secretary of State Rex Tillerson told reporters the President and the Pope spoke of "extreme terrorist threats" and the "radicalization of young people." One of the more heated topics as of late, global warming, was also brought up. The President, who has openly supported the theory that climate change is a hoax, was given a copy the pontiff's 2015 encyclical on the environment and its relationship to social justice. Trump's administration has actively sought out actions which are geared towards profit and growth rather than healing, and in the encyclical the Pope writes, "the warming caused by huge consumption on the part of some rich countries has repercussions on the poorest areas of the world, especially Africa, where a rise in temperature, together with drought, has proved devastating for farming."
Trump has been touring the Middle East, meeting with Muslim leaders in Saudi Arabia and with Israeli and Palestinian leaders in Jerusalem and Bethlehem. Jokes aside, President Trump seemed to stay out of trouble for the most part and called the visits "wonderful and unforgettable."
Honor of a lifetime to meet His Holiness Pope Francis. I leave the Vatican more determined than ever to pursue PEACE in our world. pic.twitter.com/JzJDy7pllI

— Donald J. Trump (@realDonaldTrump) May 24, 2017