Christmas came late for fans of The CW's The 100, but we're not complaining. With less than two weeks until the premiere of Season 4, fans were gifted with not only an official season poster but also concept art for The 100 Original Funko Pops -- both things that we have been waiting on for months.
When Season 3 ended, fans knew that Season 4 wouldn't start on a happy note. That suspicion was confirmed when the trailer for the upcoming season showed everything that A.L.I.E. had predicted while in the City of Light coming true. Black rain. Precancerous lesions. The meltdown of the world's nuclear power plants spells trouble for those living on the ground, and the official Season 4 poster is even more proof of that.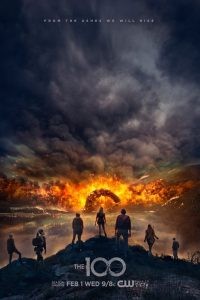 The CW
Standing on a cliff overlooking Arkadia, our gang of delinquents is back together, but it doesn't look to be a happy reunion. Arkadia is burning -- or, rather, exploding -- and we're left to wonder what happens next. Without a home and with 96% of the Earth being deemed uninhabitable, where do the survivors go? And who will be the unlucky ones who don't see the end of the season? This is The 100 that we're talking about, and, in the words of A.L.I.E., "death is inevitable."
But all was not dim and dire for fans. Shortly after the poster was released, Original Funko swooped in to save the day and lift spirits with concept art for The 100 Funko Pops. So which characters are going to be immortalized in Pop form? Clarke Griffin, Octavia Blake, Lexa, Lincoln, Bellamy Blake, and Raven Reyes.
While reception for the concept art was overwhelmingly filled with excitement, there was also some criticizing of two characters in particular: Bellamy Blake and Raven Reyes -- characters who are not white but whose Funko Pop concept art whitewashes them. Lincoln was spared from this whitewashing. This is just concept art, though, and fans are holding out the hope that the final products will more closely resemble the actual characters when the Funko Pops are released later in 2017.
[gallery type="slideshow" size="large" ids="153663,153664,153665,153666,153667,153668"]