We are in the final stretch of the countdown for The 100 Season 4, and, while The CW has gifted us with a trailer and promo, we've finally been given images for the premiere episode "Echoes", and let's just say that they are amazing.
When we last said goodbye -- err, "may we meet again" -- in Season 3, Clarke had just pulled yet another lever and been given the news that, with doing so, she had committed her people to a likely death. After all, how do you stop the world's nuclear power plants from melting down? While that is going to be the major threat going forward, the premiere episode seems to be dealing with the direct effects of A.L.I.E. and the City of Light.
According to the released images, everyone is still gathered in Polis. How they managed to get down from the tower when the lift was done for and there were no stairs or ladders may be the biggest mystery heading into the premiere. Things aren't looking too promising for Jaha, either. There seems to be some kind of standoff going on, both Grounders and Skaikru turning against him. Considering that he's the one who brought the reign of A.L.I.E. and the City of Light upon them, it's not a far-fetched idea that they'd be a tiny bit upset with him now that they've realized the truth. They may have been "happy" in the City of Light, but they were blinded by the chip and did some unspeakable things. Will Jaha be welcomed anywhere anymore?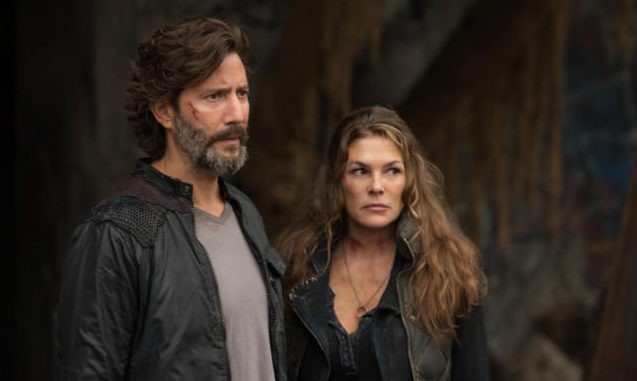 TV Fanatic
Kabby shippers, brace yourselves. Another key thing to note is the rise of Kabby. Kabby will rise in Season 4 or, at least, get a plentiful number of scenes together if this photo is any indication. Here's to hoping that there's will be one of the few ships that has a happy ending. The images also show Kane stepping right back into the role of peacekeeper.
While Kane and Abby will be getting closer, the photos also show that Season 4 will also see the return of Bellamy and Clarke working together. Will they be falling back into their co-leadership roles and work together to save their people? They were co-leaders in Seasons 1 and 2, and they were able to bring their people to safety, but they went down different paths in Season 3, and their people ended up in more danger than ever. If we are to learn anything from history, it's that Bellamy and Clarke work best as a team.
Check out the gallery below to see all of the images.
[gallery type="slideshow" size="full" ids="152991,152990,152989,152988,152987,152986,152985,152984,152983,152982,152981,152980"]
Season 4 of The 100 premieres on The CW Wednesday, February 1 at 9pm ET/PT.