We have certainly had our fair share of classic tv shows being remade into movies, some good, some not so great. Usually, it's the latter; Bewitched (2005) with Will Ferrell and Nicole Kidman wasn't so hot, The Three Stooges (2012) offered really quite extraordinary performances of the stooges themselves despite the rest of the film falling flat.
The large variety of The Brady Bunch and The Addams Family films have their followers, but no one can really call them masterpieces of filmmaking. The Beverly Hillbillies (1993) and Lost in Space (1998) are no Oscar contenders either. It seems that part of the issue is trying to condense a multiple season television show into a 90-minute or two-hour film. Even with sequels, you get into tricky territory. It seems the best reboot option (if we have to reboot at all) is to reboot the series as another series, like Dallas (originally aired from 1978-91, remade from 2012-14). Even that was short-lived however with just three rebooted seasons.
Every once in a while you get a serviceable, passable movie like Get Smart (2008) that takes a hold of the concept and makes something entertaining with the source material, that still manages to capture at least some of the original TV magic; or even the critically acclaimed action thriller The Fugitive (1993) starring Harrison Ford and Tommy Lee Jones, based off the television show of the same name from 1963-67. It was nominated for Best Supporting Actor and Best Picture Oscars among several others.
We don't have to mention how successful Mission: Impossible (originally aired in 1966, remade into the first film in 1996) has been. Regardless of how one feels about the recent Man from U.N.C.L.E. (2015), it really didn't have much to do with the show at all. It seems like we need to find a delicate balance; that is, if we proceed to make films off the television shows of time gone by.
Classic TV Shows Inspiring Movies
These five movies don't seem to be any more promising, though granted we don't know enough about them yet to make a call on that. It almost seems as if random people just wrote the title of an old TV series, hoping someone would make something out of the property, whenever that might be. Here are five television shows that are planning to be made into movies, all unsurprisingly in "development hell." We probably won't be seeing any of them anytime soon, but you never know. I'll bet you didn't know about these, did you?
Gilligan's Island
This is the one we know the most about, although it isn't much. According to IMDb (Internet Movie Database), writer and producer Sherwood Schwartz (who passed away in 2011) of the original 1964-67 Gilligan's Island was reported to have said that he would enjoy seeing Michael Cera as Gilligan and Beyoncé as Ginger. While that might be an interesting idea to some and a cringe-worthy one to others, the most recent update was that Josh Gad (Frozen (2013), Beauty and the Beast (2017)), Dan Hernandez, and Benji Samit were writing the project, with Josh Gad also starring in the film. It does not say who Gad would play, although most bets are on "sailor man" Gilligan himself.
It seems difficult to fit this three-season show into one film, although the show itself was usually uneventful since the castaways never did get off that island (unless you count the made for TV movie, Rescue from Gilligan's Island (1978)). Gad seems like the type of guy who would pay great homage and put great care into this updated film, so let's hope that is the case if it ever comes to fruition. It would make sense that the film would not open with being stranded and less than two hours later be rescued, so a franchise would seem inevitable, or at least a trilogy. And why not? Every single movie nowadays has to have a follow-up, so why should things change?
Trivia: The original cast of Gilligan's Island now has only two surviving members: the two lovely ladies Ginger Grant (Tina Louise) and Mary Ann Summers (Dawn Wells).
Three's Company
Having just celebrated its 40th anniversary last year, Three's Company (1976-84) is one of those great premises that really is best suited for a television show. Even a franchise of films might not cover the ground one would expect from a synopsis like this. Maybe this is another one of those projects in development that is just being made so someone can say, "Yep. They made a Three's Company movie." It is being written by Abby Kohn and Marc Silverstein, a screenwriting duo behind such films as How to Be Single (2015), The Vow (2012), Valentine's Day (2010), He's Just Not That Into You (2009), and Never Been Kissed (1999). Considering their recent films, it's safe to say that this film will probably be quite raunchy, amping up that of the original series, if and when it happens. It is to be produced by Robert W. Cort, known for Jumanji (1995), Bill & Ted's Excellent Adventure (1989), and Runaway Bride (1999). No cast is listed at this time.
Trivia: Landlord Ralph Furley, who would join the show in 1979, was played by Don Knotts, who you may remember played the classic deputy sheriff Barney Fife in The Andy Griffith Show (1960-68).
I Dream of Jeannie
This film could actually work if executed properly. It could become a franchise, but if done in the correct way could also easily be a standalone film and still be satisfying. It will be helmed by two very different writers: Rita Hsiao (Mulan (1998), Toy Story 2 (1999), and the upcoming My Little Pony: The Movie (2017) as well as the sequel to Enchanted (2007), Disenchanted (2018)), and Sheila Callaghan (known for mostly television shows such as Shameless (2011-) and United States of Tara (2009-11)). Alex Siskin and Sidney Ganis of Big Daddy (1999) and Mr. Deeds (2002) fame are on to produce.
No cast list has been given yet; of course, the main difficulty would be finding someone who could fill Barbara Eden's shoes. No one can beat Barbara Eden, but maybe someone like Reese Witherspoon, Kristen Bell, Amanda Seyfried, or even Brittany Snow could pull off the "charm" and playfulness of Jeannie. Personally, I think Kate Hudson could fill the role well, having the look, humor, and right amount of finesse, though some might think she would not be young enough for the role. If not her maybe Lily James (Cinderella (2015)) or Margot Robbie (Suicide Squad (2016)), who seem to be very sweet and continue to prove themselves as actresses, could slip into this role quite easily. Amy Schumer might be a bit of an overkill. Of course, the actress doesn't have to be blonde, at least in real life.
Trivia: Larry Hagman (who played Captain Anthony Nelson) in I Dream of Jeannie (1965-70) would go on to play a much different character in that of ruthless J.R. Ewing in the hit soap Dallas for fourteen seasons, returning again for the rebooted series in 2012.
Barbara Eden played "The Manicurist" Ellen Brown in an early episode of The Andy Griffith Show in 1962, about three years before coming out of the lamp.
Green Acres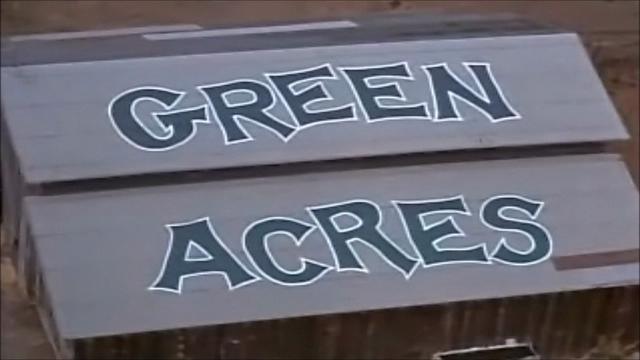 No release date. No cast list. No writers or directors attached. Just a solitary producer listed: Phillip B. Goldfine (executive producer of The Last Word (2017) starring Shirley MacLaine, and producer of A Christmas Story 2 (2012 Video)), and the plot that keys us in that this is based off the 60s TV show. Nothing too hopeful.
Again, how would one recapture the magic of the original cast and make a film that could stand on its own despite what it is based on? The series' pilot alone could fill one movie, but how could the penthouse vs. farmhouse feud be resolved in three movies, let alone one movie? It's not that the source material isn't good, it's just that the source material is great to have strung out for various hijinks and situations, not constricted to one film or a trilogy.
Most of these movie ideas would be best served as a rebooted series instead of features, if they have to happen.
Trivia: Original Green Acres (1965-71) series director Richard L. Bare, who directed 166 of the 170 episodes, was attached to produce this rebooted film alongside Phillip B. Goldfine, but he unfortunately died in 2015 at the age of 101. Maybe that's a sign for this film to give up the ghost.
Hogan's Heroes
Again, no cast list or release date. Only one producer, who is now in his late eighties, is attached: Albert S. Ruddy, one of the creators of the original Hogan's Heroes (1965-71). He also wrote such things as The Longest Yard (2005) and produced such things as The Godfather (1972) and The Cannonball Run (1981). It's too bad that a lot of these movies in development have the original creators on board in some capacity, but they either pass on or get too old before something happens or at least moves forward. While not at all the same show, Hogan's Heroes falls into the same genre as M*A*S*H (1972-83), which was lucky enough to have a feature film released first that the television show fell back on and had to thank in part for its success.
The fact that the M*A*S*H (1970) film was still able to have a fulfilling story that went full circle, despite it releasing before the actual show, gives me a little hope that a Hogan's Heroes movie could follow suit and have M*A*S*H as inspiration. After all, it is a film that is on the American Film Institute's Top 100 Greatest Films of All Time and was nominated for five Oscars, including Best Picture, winning Best Adapted Screenplay.
Trivia: A little-known film called Auto Focus (2002) stars Greg Kinnear as Bob Crane and follows his relationship during Hogan's Heroes with John Carpenter (Willem Dafoe).
Bob Crane played a goofy neighbor named Harry Rogers for one of Rob Petrie's (Dick Van Dyke) skits with Mark Antony and Cleopatra in The Dick Van Dyke Show (1961-66) in 1962 before his role as Colonel Robert E. Hogan.