Everyone loves listening to podcasts. It's something to get you in the mood when you're working, need a laugh or just want to hear about various real-life topics. If you're looking for some new ones to listen to or need some good recommendations of where to start, here are eight podcasts that I think you should already be listening to.
1. Psychobabble with Tyler Oakley and Korey Kuhl
Psychobable is a half an hour of pure enjoyment. YouTuber Tyler Oakley and his best friend Korey Kuhl really make this podcast enjoyable for fans old and new to listen to. The duo talks about various unfiltered discussion topics and never before told stories. I just really like this podcast in the sense of how real Tyler and Korey along with real life topics they discuss.
2. Not Too Deep with Grace Helbig
The one and only Grace Helbig hosts Not Too Deep, a ridiculous, silly and superficial interview podcast. In the podcast, Helbig gives you a good laugh with various internet sensations and superstars. I really enjoy this podcast because it is nothing like a regular podcast: you laugh, you cry and you just have a good time listening to them make fun of the most random things.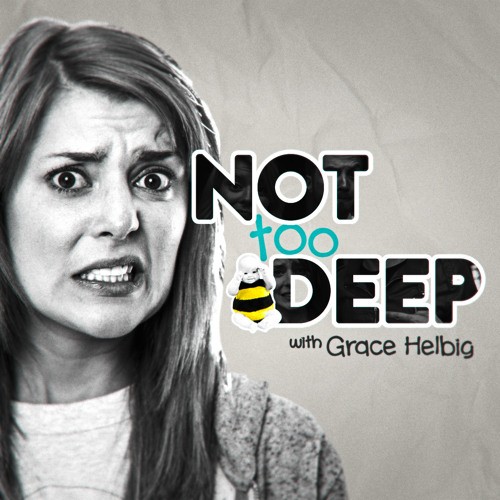 soundcloud.com
3. Dizney Coast To Coast
Dizney Coast to Coast (yes, spelled like that) has to be one of my favorite Disney-themed podcasts out there. Hosted by Jeff DePaoli and Patrick Dougall, it takes you through the magic that is Disney. The duo take pride in their Disney knowledge and give listeners (and viewers on YouTube) fantastic entertainment. You get everything and anything Disney-related like theme parks, movies, theatricals and much more. If you are a Disney fan, this podcast is for you.
4. Disney Movie News
This round table discussion podcast gives you everything Disney movie-related. Leo Camacho, Sarah Snitch, Keetin Marchi, and Renee Ariel give you your weekly dose of Disney news and their insights about what is going on in the world of Disney. Like Dizney Coast To Coast, you can also watch the actual discussion live on The Popcorn Talk. What I love about this podcast is that it is very interactive and is presented in such a great way that gets the discussion going anywhere.
5. Shane And Friends
I absolutely adore Shane Dawson and his podcast. He and his co-host Jessie Buttafuocco have a crazy chemistry together that make this podcast even better. If you don't understand Shane's dry humor, then this podcast might not be for you. However, if you love comedy and listening to others get slightly out of hand then you'll enjoy this.
6. Dear Hank and John
In this podcast, the vlogbrothers answer questions, give advice and talk about their love for Mars and AFC Wimbeldon. I like this podcast because the brothers give real life advice that anyone can use, and it just makes for a good time listening.
7. Ladies Who Lunch
Ladies Who Lunch is hosted by Ingrid Nilsen and Cat Valdes. This is another roundtable podcast in which the girls talk more about adult situations like relationships, self-image and life in general, but they do it with compassion and a sense of humor. I just started listening to this podcast, and I am already in love with it. They bring real life situations to light but in a humorous way that I think makes the situation better than what it could have been.
ladieswholunchshow.com
8. Jenna and Julien Podcast
This podcast is hosted by YouTuber Jenna Marbles and her boyfriend Julien. They discuss everything in this podcast from the news to challenges to even just chatting about their lives. I love this podcast because the two of them get real on the podcast and bring us further into their world.
Take our poll down below and let us know which podcasts you will lend your ears to.