The cast of The Walking Dead came to NYCC to tease Season 8 and to talk about the road thus far. Among the group were cast members Andrew Lincoln, Norman Reedus, Jeffrey Dean Morgan, Melissa McBride, Lennie James, Tom Payne, Katelyn Nacon and Austin Amelio, as well as producers Greg Nicotero and Robert Kirkman. While at NYCC, the cast sat down for a press conference and we were able to find out some new details about the upcoming season!
8 things we learned and loved about The Walking Dead during their pre-panel press conference:
8) The first episode of season 8 has a lot of nods to the previous seasons. Greg Nicetoro says that if you know your Walking Dead trivia that you will pick up on a lot of the nuances that are hidden in the episode. Alright dead heads, put on your thinking caps.
7) Another nod to previous seasons are the walkers. Greg also mentions that there are a couple of "tribute" walkers in the season. That should make for a good time. Which walkers do you remember the most? Glenn's well walker?
6) Andrew claims that Greg and Rob like to make him cry. Plot twist, they say that they have to digitally remove his snot from a lot of shots when he is crying and only deliberately left it in for one scene to add to the drama. Maybe they should stick to the digitally removed snot shots!
5) Andrew also commented on Rick's mental state in the beginning of season 8. He told us that Rick was a mess, but now is ready for battle. He compared Rick to a shark and that he has to keep moving so he doesn't die. Rick is now willing to put everything on the line, and Andrew is quite happy not to be playing last season's Rick.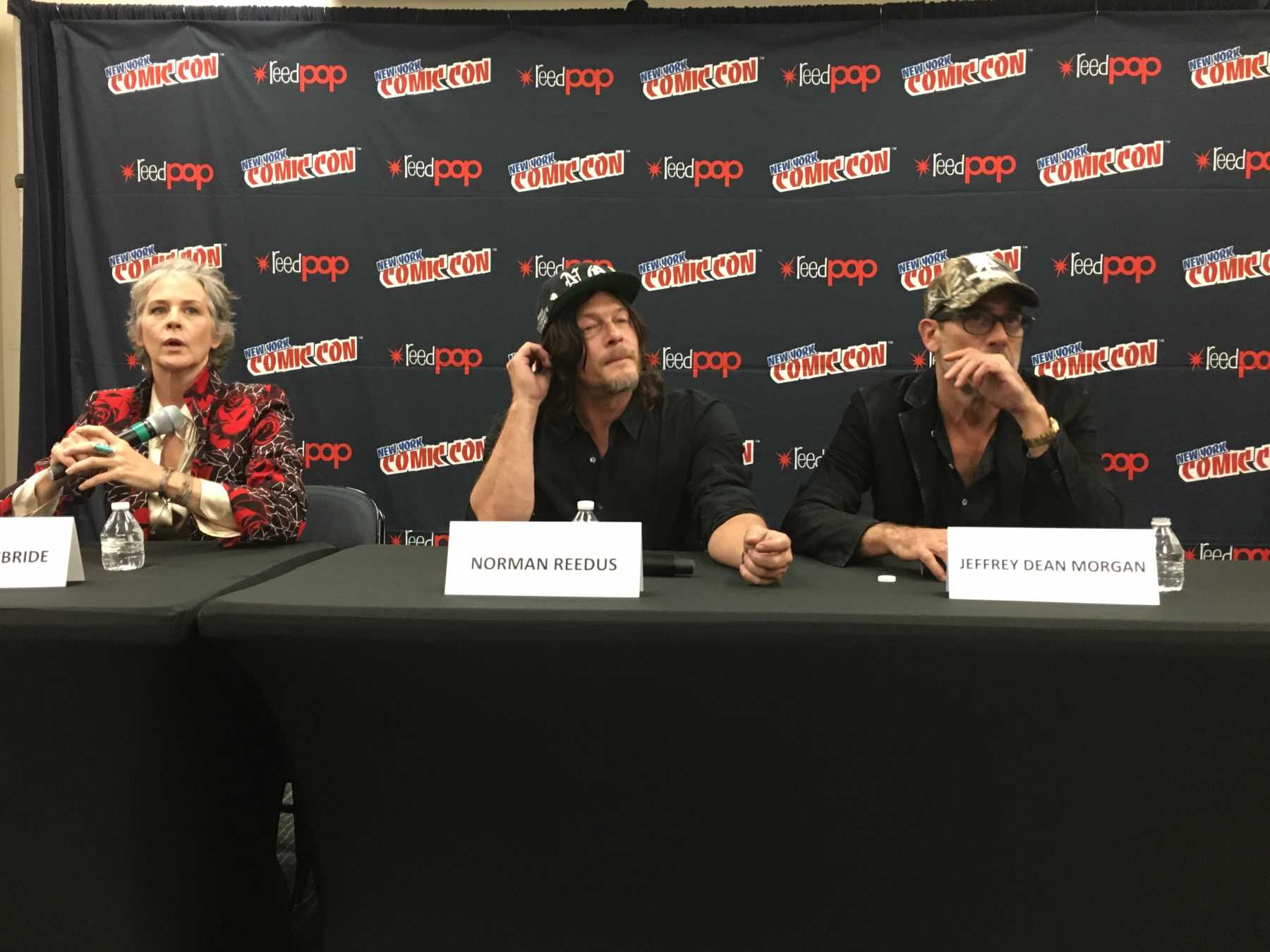 4) It was the one year anniversary of the death of Lucille (in the comics). Jeffrey hopes that this does not happen in the show, but we feel conflicted. We want Lucille to die for what she and Negan did, but come on... it is Lucille. It's the kind of thing that we all love to hate!
3) At the end of season 7 we felt that Dwight wanted to help Daryl and that the two had a strong bond. Norman and Austin commented that this season they are still figuring each other out and that the "cat and mouse" will continue.
2) Carol is still making cookies. Melissa did comment that Carol may have to fight even if she does not agree with it 100%. Jeffrey joked that she could come to his side and make cookies for him, but I think they know none of us would like to see that. No cookies for Negan!
1) One of the most endearing things that we learned was about a fallen members room. They shared that they keep the names of all the members of the cast that have been killed off on a wall in a room (kind of like what we see at Alexandria). This means a lot to the cast, crew, and to us fans because it shows what kind of a family The Walking Dead is.
The Walking Dead returns Sunday, October 22 at 9/8c on AMC! Check out the NYCC sneak peak below: