As a theatre geek, I have to freely admit, for much of my life, I went into the "Jukebox Musical" genre of Broadway with snobbish trepidation. But, in recent years, my eyes and Broadway-loving heart has been opened to the pure musical joy that is a Broadway show built around or about the music I grew up listening to. My most recent case in point? Beautiful: The Carole King Musical. Though, in all honesty, my expectations were pretty high as a lifelong fan of Carole King.
But what I often forget and what Beautiful: The Carole King Musical reminds me is that not only is Carole King an amazing singer in her own right but that, in the years that the Billboard Hot 100 has existed, Carole wrote or co-wrote 118 of the pop hits that have appeared on it. As the Broadway show tells us, she wrote the soundtrack to an entire generation -- and she did it in an industry dominated by men and as a teenager. By the time she was in her twenties, she and husband, Gerry Goffin, had a flourishing career writing hits for the biggest acts in rock 'n' roll. But it's not until her marriage fell apart that she found her true voice.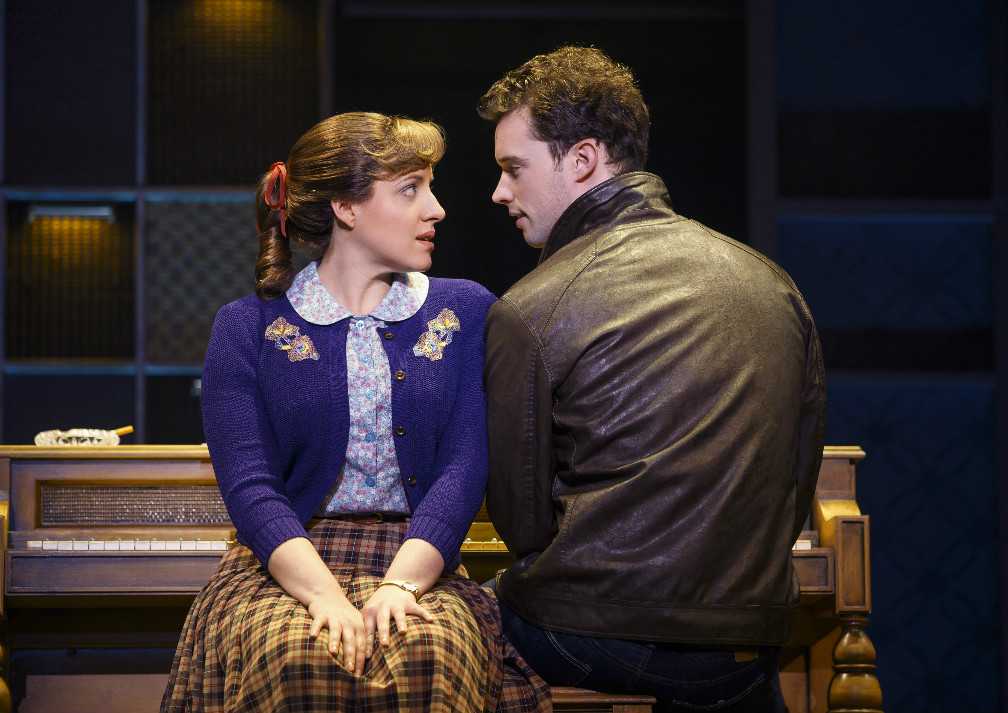 Joan Marcus
I got the chance to chat with Liam Tobin, who plays Carole King's husband and songwriting partner, Gerry, in the current national tour production of Beautiful: The Carole King Musical.
PopWrapped: Tell us about the current production of Beautiful and your role.
Liam Tobin: Beautiful: The Carole King Musical follows Carole's life story. We start in 1959, where Carole and Gerry, her husband, whom I play, meet for the first time at Queen's College in New York and become writing partners and lovers. We get to see their journey writing so many hits together like "Up on The Roof", "Locomotion", "Will You Still Love Me Tomorrow", "A Natural Woman" -- so many big tunes for so many groups as well as for Carole herself. We get to also follow their life story behind the music as well, the problems within their marriage and their lives, trying to be relevant, and a lot issues that they face and problems they go through. But you get to see Carole come into her own and become a solo artist as we get into 1971. We also have another couple/writing pair in the show, Cynthia Weil and Barry Mann, kind of competing, and they write a lot of great tunes like "On Broadway", "Uptown", and lots of great tunes as well. We get to see where all these songs came from, and you get to see the quintessential groups singing them in that polished style as well.
PW: What was it stepping into the role of a real person, an icon? It's such an iconic story; was there added pressure stepping into a role like that?
LT: Absolutely. Most of the time, you're playing a role that's been completely fabricated in someone's mind. Where these are real people, and you don't want to do an impersonation. You want to stay true to the part of the person and try to put yourself in their shoes for awhile and see if you can find a way to capture their spirit. There's a lot of great resources that come with that. There's Carole's autobiography; our director has a great collection of clips of Carole and Gerry working together and him stopping and saying, "It's gotta boom boom" and she would know what he meant and change it. Those kind of things were invaluable in getting the tone of these people and what it was like back then in the sixties and writing songs for these big hit groups.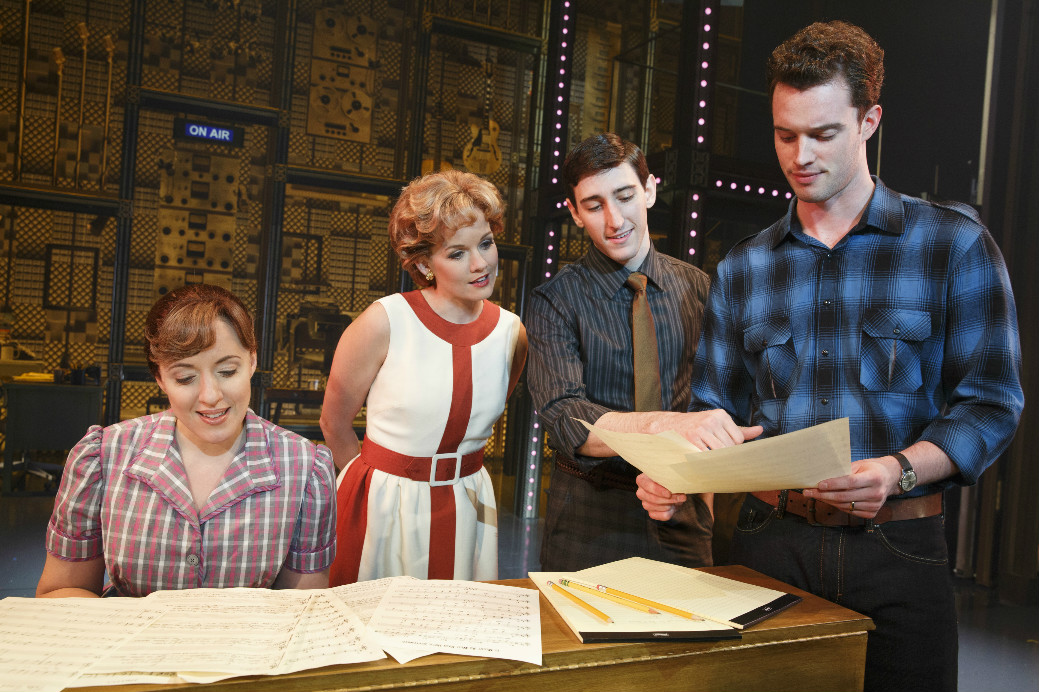 Joan Marcus
PW: Is the reaction from the audience toward the songs different than in other productions you've done?
LT: Absolutely. So many people have grown up with and had this music be such a huge part of their lives, so most of the audience members have a really deep personal connection with a lot of these tunes. It's funny when you see Abby, who plays Carole, play the opening of "Will You Still Love Me Tomorrow", the whole audience just goes, "Ahhh." To hear 3,000 people do that all at once is pretty amazing. And same thing with "A Natural Woman" and a lot of these numbers. People are really attached to it and sing. It's music people just love.
PW: What is your favorite number from the show?
LT: The guys who play The Drifters do "On Broadway", which Cynthia Weil and Barry Mann wrote -- that classic choreography, the sound and the four of those guys dancing and singing their faces off. It's one of the only two numbers, after a year of doing the show, that I still find myself in the wings watching every night because it's just so great. I wish I was part of that number.
The other one would be Abby singing "A Natural Woman" in Act II. It's just such a great song, and everyone on stage is singing their hearts out. And she just kills it. I guess those are my two favorite numbers in the show.
Thanks so much Liam for the chat! Beautiful: The Carole King Musical is currently playing at San Francisco's Orpheum theater through September 17th. Spend an evening basking in the music that defined a generation!