Marvel's Agents Of SHIELD is currently on break for the holidays, but that doesn't mean we won't be getting new content! A few weeks ago, it was announced that a short miniseries called Slingshot will be released starring AoS's Yoyo. Elena "Yoyo" Rodriguez is a hugely underused and appreciated Inhuman character with a lot of potential, so fans were excited to see her take the spotlight, even for a little bit.
The miniseries was released on December 13th. Released in six episodes ranging from three to six minutes, fans get some insight into some missing time between Season 3's end and Season 4's start, which is a great bonus because these scenes are not needed to enjoy the main show but are a fun extra. We watch as Elena signs the Sokovia Accords, becomes a SHIELD agent under Mace's control, and tracks down a criminal. Plus, the old 0-8-4 from Season 1 is also involved because, as any fan of the show knows, it's all connected! In fact, Slingshot references a lot of things in Agents Of SHIELD and even the MCU, so it fits in well.
And, if that weren't enough to convince you, know that Slingshot stars all the other SHIELD characters, too, interacting with Yoyo in interesting ways, which really made the series seem like a bonus AoS episode.
While I'm very glad to get this bonus material, I wish it were a bit longer. The whole thing only takes about 20 minutes to watch. Because it was so short, things moved very quickly and felt a bit rushed.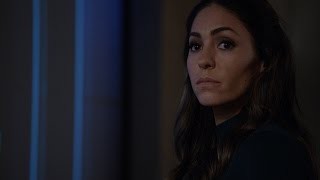 kinotube.info
So how can you watch Slingshot? If you have the ABC app, they're all on there for your streaming pleasure, but, if you're like me and reside outside of America, ABC so nicely put them all on YouTube, so you can watch them here.
I liked Slingshot, overall. Seeing more of Yoyo was awesome, and, despite the time constraint, these episodes had some humor, some romance, some action and some drama. What more could I want? I think it was great of Marvel and Agents Of SHIELD to end the year in such a fun way, and I hope the success of this leads to more miniseries in the future.
What are your thoughts on Yoyo's little solo series? Watch the first episode below, and let us know!
Agents of SHIELD: Slingshot