Those of us who proudly call ourselves '80s and '90s babies were treated today (Oct. 10), thanks to Nickelodeon, at the All That reunion panel at New York Comic Con.
It began, as all panels should, with the iconic show's theme song blasting from the speakers as everyone in the audience sang along. Then, Josh Server, Danny Tamberelli (cradling four corns on the cob and cooing to them), Lori Beth Denberg, and Kel Mitchell walked in to deafening applause and cheers. A brief video montage was also shown, featuring some of their best moments on the show.
For the next hour, the cast participated in a Q&A that, of course, had everyone bursting into laughter every few minutes. It cannot be said that time has taken away their senses of humor or their natural ease with comedy.
(Within minutes, someone demanded--nicely--that Kel do his "orange soda" bit. He obliged. Amazing.)
They each talked about their auditions for All That; during the nationwide search for the cast, Josh and Kel were discovered during casting calls in Chicago, Nickelodeon scouts spotted Lori in a drama showcase she did in high school, and an executive producer cast Danny when The Adventures of Pete & Pete ended its run after three years.
One of the most interesting moments was hearing about their comedic influences. Kel mentioned Martin Lawrence, John Ritter, and Jim Carrey (especially for his Repairman character). Josh was influenced by Jim Carrey, In Living Color, and Saturday Night Live.
Lori's "Vital Information" segment was a huge talking point, of course.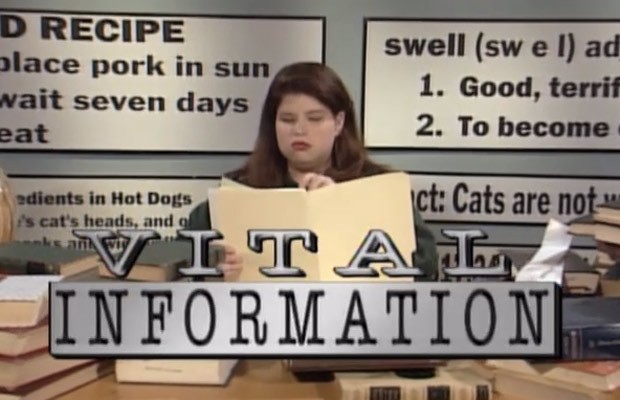 Credit: complex.com
Her favorite tidbit of information she's ever given? "If you're drinking apple juice that's warm...it ain't apple juice."
Wise words.
Ever wondered if all that food Danny gorged himself on as Fat Cop was real? Sure was! He claims that any food he would be required to put in his mouth on set had to be real...because, y'know...artificial food is a choking hazard. The huge turkey drumsticks were his personal favorites.
During the fan questions segment, someone asked Kel (and begged him to say yes) if there were any plans to bring Kenan & Kel or Good Burger back. Kel didn't give any details, but he DID say that there have been talks recently about doing just that.
Yes, my inner child just shrieked aloud too. With Nickelodeon already bringing back some of our favorites from that era, I'd say this idea has a pretty great chance of happening...
Stay tuned! Until then, catch All That reruns (as well as some other '90s favorites!) during The Splat on Nickelodeon, weeknights from 10 pm to 6 am.