Best known for her role of Zoe Rivas in Degrassi: Next Class, Ana Golja has had an interest in performing since she was a little girl. Now, with season 2 of the show streaming on Netflix, and seasons 3 and 4 coming next year, together with plans to release her own music in the near future, Ana chatted to us via Skype to talk acting inspirations, film-making and future projects.
PW: For those who are unfamiliar with Degrassi: Next Class, such as myself, tell me a little bit about it.
Ana Golja: Well the show has been going on for something like thirty-five years – almost Coronation Street level. It's a wonderful show that a lot of teens just relate and really connect to. The whole purpose of the show is to let teens know that they're not alone with whatever they're going through.
PW: When did you first realize that you wanted to be an actress? Was there a film or TV show you saw that made you think 'yeah, I want to do that'?
A: I didn't know I wanted to be an actress specifically, I knew I wanted to be an entertainer of sorts. I used to watch a lot of Shirley Temple films with my family when I was young and I would see her tap dance, and what I would do is go into the bathtub and try to imitate the sounds that she made with her shoes. That's when my parents sort of realized that I wanted to be in the arts so they sent me to dance and everything kind of spiralled when I turned nine.
PW: What happened exactly when you turned nine? Was that when you got you first big break?
A: My mom put me into this camp which had an acting component and a dance component. I went more for the dance component as I'd been dancing for a few years by that point, and the director said I was very talented and went on to send me to this international talent showcase. I did really, really well and placed first in almost all the categories, and then I had an agent call me and offer me a position on her roster. I said yes, thinking I'd give it a try, and the first audition I had, I booked, and when I had my first day on set, it was then I realized that acting was what I wanted to do. It was such an adrenaline rush and I loved getting to work with such talented people.
PW: What was the audition for?
A: It was a series called 1-800-Missing. It starred Mark Consuelos and Vivica Fox and I was in for an episode.
PW: How are you finding the experience of being part of such an established show like Degrassi? Do you still see yourself as one of the newbies to the show, given that it's been running for so long?
A: At this point now, it's been almost four years since I joined the show, and so I rather feel like the veteran. But at what point, yeah, I was the newbie on the show and it was incredibly daunting because Degrassi really is such a household name and has been a launch-pad for people like Drake and Nina Dobrev and Shanae Grimes. It was a lot of pressure, you know, having the torch passed on, but at the same time it was, and it still is, such an honor to be part of a show with such a legacy.
PW: Are you at all aware of the comparisons that people make between yourself and Nina Dobrev? Many say you look very much alike and with that in mind, given how it helped launch Nina's career, prior to her landing the role of Elena in The Vampire Diaries, how do you handle being part of a show that's made so many household names of its stars?
A: It's such a compliment to be compared to her, I think she's such a stunning and amazing actress. Thankfully, in terms of the pressure that can come from being on a show such as Degrassi, here in Canada, people are very respectful of privacy and they're not as in-your-face as you might see in places like LA. Fans stopping to take pictures and stuff like that hasn't been much of an issue and they're really sweet actually. I can't imagine what celebrities like Justin Bieber must have to deal with on a daily basis – that's a whole other level, but as for the attention I get, I'm happy and it's pretty comfortable. As for the show and what it's done for careers of those who have been a part of it, it's amazing that I have the ability to really make something of myself and it's like a really big make it or break it moment. So it's definitely a lot of pressure but at the same time, I am extremely lucky to have the opportunity to be on a show like this and I'm just really enjoying my time on the show and making it as effective and as successful as possible.
PW: In terms of your role of Zoe, what do you think you personally bring to the character? How much of Zoe is you and how much is perhaps influenced by the script and the other characters?
A: I would like to think that I'm pretty different from Zoe, however what we do have in common is our drive. Zoe is driven to do typically negative things to people whereas I don't, but we are very determined young women, very driven and very bright and resourceful. I am pretty sassy like Zoe, I do have a certain fire to me but I think that's about it in terms of how I relate to her. I do bring a bit of myself to the role but a lot of it is just drawing from whatever films and books I've seen and read, and the people that I know personally, who help make Zoe all that she is.
PW: What would you say has been the key to the shows' ongoing success?
A: I think the key to our success as a show is the fact that we stay relevant. Our writers have done incredibly well staying in tune with the youth of today and in some cases, even predicting what is going to happen with our youth and in our society as a whole. I don't know what they do but they are an absolute phenomenon and I credit the success of the show to them. All the cast and crew approach each episode and all the storylines in a very raw and authentic way and we all have a common goal which is to make the absolute best show we can and to let teens know that they are never really alone with what they're going through. I think because we've stayed true to ourselves and to the stories that we tell, that's what's really gotten us and the show to where we are and where it is today.
PW: Which storyline have you most enjoyed being a part of?
A: The sexual abuse storyline that I had to do was probably my highlight just because it was incredibly rewarding after the episodes had aired and the response from fans was absolutely astounding, just how many people were opening up about their personal experiences of sexual abuse and how the show helped them in so many ways. They were able to be vocal about it and accept it, to talk to other people about it and share their stories. They were able to open up and let other people know that they're not alone when they go through something. The amount of people that came forward was heart-breaking, because so many people were affected by it but at the same time, it'd amazing to know that our show serves a greater purpose and really makes an impact positively on people's lives.
PW: Seasons 3 & 4 of the show will stream next year, but in the meantime, are there any hints you can offer as to what fans can expect?
A: I'm trying to figure out a way not to spoil it for you... okay, Zoe's storyline ended with her coming out of the closet to Winston, so in seasons three and four, you'll really see her try to take ownership of that and how her identity as it is now affects her life and the relationships she has with people. You'll see her struggle with that and then, in terms of the show as a whole, you'll see that the bus crash will play a huge part in the coming seasons. A huge number of people are affected by it – that's all I can say.
PW: Away from Degrassi, you won rave reviews for your role as Ariana Berlin in Full Out. What was it about that role in particular that made you want to be involved in it?
A: First of all, the story. Ariana's truly remarkable story really touched me. It's very inspirational and that in itself made me want to be involved. When I read the script and learnt more about Ariana, I really saw a lot of myself in her. Of course, I never had to deal with the hardships that she was facing, and I don't know how I would cope, but there were definitely characteristics within the two of us that I believed to be very similar. I just couldn't say no to a part like that. Plus I got the chance to physically put myself in another person's shoes. I had to train for the part, for about eight weeks, in gymnastics and thankfully I had the dance background so that made things a lot easier. It was just an incredible experience.
PW: You're also a gifted singer, so are there any plans to release an EP or an album in the near future?
A: I do have plans yeah. At the moment, we're toying with the idea of an EP or album. I feel the fans don't really like me much right now, when I talk about my music, as I've been going on about it and teasing them for almost two years. However, I'm a very firm believer that you only make a first impression once and I'm also a perfectionist, so I really want to be as open, honest and as authentic to myself as possible and that's why it's taken so long. I'm now getting to that place where I'm able to feeling ready and able it and I'm genuinely excited - I can't wait.
PW: Which bands and artists have you been listening to in terms of inspiration? Which artists have you listened to and thought 'yeah, that's the kind of music I want to create'?
A: Pretty much all of the artists I listen to are British, so I've got a very British pop sound. My biggest idols would be Amy Winehouse, Adele, Labrinth, Duffy, Maverick Sabre, Alex Clare. I love all of them and I'm trying to be a hybrid of all of them. We'll see. I'm really happy with the way things are going and I hope people like what they hear.
PW: You're also working on a film to highlight the debilitating condition of Alzheimer's disease. How did you get involved and is it something that affects people close to you?
A: My great-grandmother has Alzheimer's and it's been a really big part of my life. I wanted to tell a story that highlights that as I don't think that many people know that much about it and I'm lucky enough to be in a position where I can make an impact and I can educate people on such an important topic. A friend and I got together, we worked on the story together, we got a couple of other dedicated and really passionate people on board and we are currently in pre-production.
PW: Do you think more people in the public eye should use their fame and celebrity to benefit other people and organizations who could really use their help and to raise awareness of important issues?
A: Absolutely. When you're in a position where you can make a difference, I think it's such a waste when people don't. That's personally how I feel. I do as much as I can to give back to others; I volunteer at soup kitchens, at community centres and at a lot of events within my area and abroad. I travelled to Ecuador and Nicaragua to help build schools and water filtration systems. Giving back is really important to me and is something I've done my whole life, so now that I'm in a position where I can really make an impact, I will absolutely continue to do so, if not even more so than before.
PW: You've partnered with DDM, the Canadian cosmetics brand, for two collection inspired by your character Zoe's iconic phrases. How did that come about and is beauty and make-up something you're really passionate about? Would you consider launching your own range in future?
A: I would absolutely love to do that, yes. I have so many different interests so I would definitely like to branch out any way that I can. I'm such a girlie girl – I love make-up and I love fashion, so I can definitely see myself doing that further down the line. Partnering with DDM has been a really good way to test the waters, and the collaboration came about via a TIFF event. DDM had a booth there and they gave me a few products which I loved. They're all animal cruelty free, vegan, paraben free, so I just started promoting them because I liked them so much and wanted others to know. I then got an email from the CEO of the company who suggested partnering up for a collection, and I immediately said yes. It was incredible and so much fun; I got to name the lipsticks, choose the colours and finishes that I wanted. It was a huge learning curve but such a blast.
PW: Which are your favourite items from the collections?
A: My go-to for every day is 'Zoe' which is a nude, peach colour. All the shades last a really long time, they're fantastic, but I adore that one, and then there's 'Spanish Roses' which is a classic red, perfect for a night out. I'm quite pale but I often find that bolder colours work really well for me, so I love brightening up my look now and again.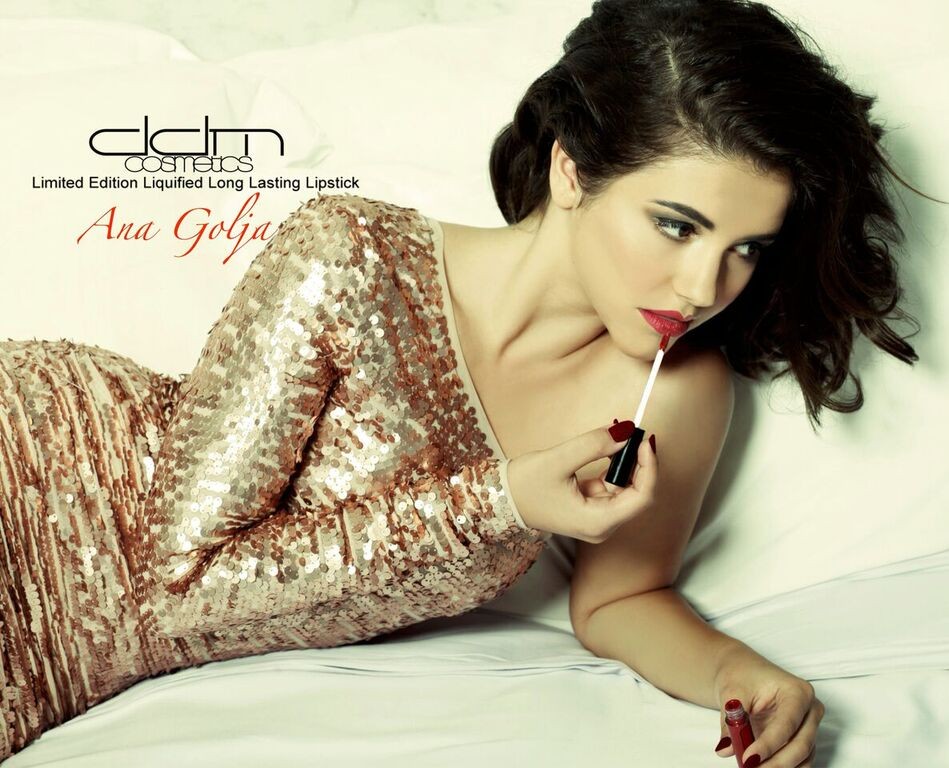 DDM
PW: With so many passions and projects, what do you do in your down-time?
A: I love doing yoga and I love keeping fit. I also do a drop-in dance class, so I get to keep up with that side of things. But mostly, I like spending time with my family. I have a very strong support system around me and I'm very close to them. I am immensely grateful to all of them and I certainly wouldn't be where I am today if it weren't for them. I grew up with four generations of women in one household; family is everything to me and I can't imagine not having them nearby. They're my biggest fans and harshest critics, and I know I'm always protected and will always have a shoulder to lean on when I need it. So, whenever we have our movie nights where we gather round the TV and eat ice-cream, it's always really fun and it's just nice to be able to look around and see all the people I love most in one room together, enjoying themselves.
PW: How has social media impacted your career and how much attention do you pay the comments and messages, both positive and negative, you receive from fans and critics? Are you at all hurt by criticisms or do you just think you're doing what you want and you can't please everyone?
A: Initially when I joined the show and my character was a very negative person, I got a lot of hate and at first, I did not know how to deal with it. I got very down on myself and it was kinda rough, but I learned to take it all in my stride. I learned that not everyone will be happy with what I do and that, as you say, you can't please everyone. If you spend your life trying to make everyone else happy, then I think you're not really living YOUR life, because it's being controlled by the thoughts and opinions of others. I've learned to turn a blind eye to the more negative comments and cherish all the lovely people who support me, believe in me and what I do. I try not to take it all to heart, because I don't want to grow an ego (laughs) but also because I want to remain as grounded as possible. I thank everyone for supporting me – I would not be where I am without them and the fans are the reason individuals such as myself have jobs, so I really want to let them know that I and many others appreciate them and everything they do for us.
PW: Are there any upcoming projects you can tell me about?
A: I got a new part on a new show which I can't say too much about at the moment. It's going to be a lot of fun; it's really different for me. It's an adult show and I'm really looking forward to shooting that. I'm also really wanting to focus on my music more now, so I'm excited to dedicate time to that.
PW: Finally then, whose career would you most like to emulate and why, and with that in mind, what advice would you give to anyone looking to make it in the entertainment industry?
A: That's a tough question. I'd love to emulate Meryl Streep's career. She's just been so successful and has played such a vast array of characters and roles – I would love to do the same and of course, have the longevity that she has had in the industry because I love what I do and can't imagine myself doing anything else. In terms of advice, I would say that if you're truly passionate about it, don't let anyone knock you down. There will be more people saying no than saying yes, and more people telling you you're not good enough than those who tell you that you're great, but at the end of the day, you just have to believe in yourself and where there's a will, there's a way. Don't get down when the going gets rough, but try and rise above it all and prove them wrong.
For more information on Ana Golja, give her page a like on Facebook or follow her on Twitter and Instagram.