Welcome back, Arrrowheads! Ready for another episode of Arrow? I know I am! A quick refresher: Last week, Team Arrow battled old adversaries while Oliver dealt with relationship problems, and Prometheus tried to turn the SCPD against the Green Arrow. Thankfully all was resolved ... Well, maybe not Oliver's relationship issues, but that's another story! Now, what will happen when the Queen Administration learns the consequences of fighting fire with fire? Let's find out!
"Fighting Fire With Fire"
We open with Oliver dealing with the fallout after news of his Green Arrow coverup is leaked to the press by Prometheus. Though Thea wants to deny and lie, Oliver decides to tell a version of the truth while also asking Thea to fix the situation with Susan. Adrian attempts to resign, but Oliver refuses to accept it. He thinks that, by using him as a scapegoat, the council will let Oliver off the hook. Instead, Oliver hires Adrian as his lawyer during the trial. 
Back in Russia, Oliver and Anatoli are stuck in a standoff with Gregor and the other Bratva members. When it looks as if they're about to be overwhelmed, Anatoli invokes an old Bratva code which buys them a little time before Gregor kills them both.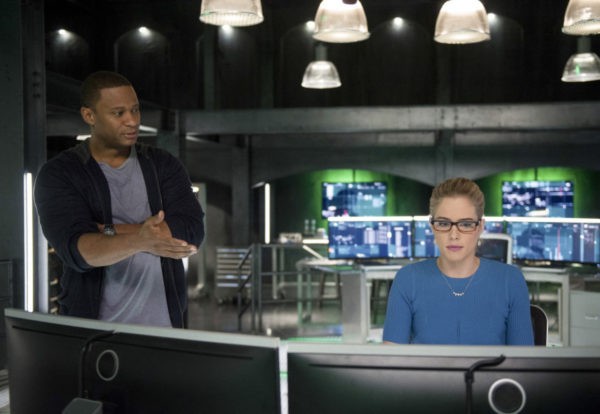 CW
Back in the bunker, Curtis is hard at work creating mini drones to help him out in the field. He thinks that, if he can make himself a bigger threat in the field, Paul won't have to worry so much and might come back. Rene, of course, is unconvinced, especially since they don't seem to work. Meanwhile, Felicity continues sifting through the data from Prometheus' mother. Oliver asks her to rectify the Susan plagiarism situation, and, though she's apprehensive, she agrees.
Elsewhere, Vigilante is back, and, unfortunately, his new target is the now compromised Mayor Oliver Queen. Back at City Hall, Oliver tries to make things right with Susan, but she refuses to listen. Back at the bunker, Curtis gets a call from Paul, and Dig confronts Felicity about using the Pandora files and working with Helix. He thinks that using information as a weapon is dangerous, but she disagrees.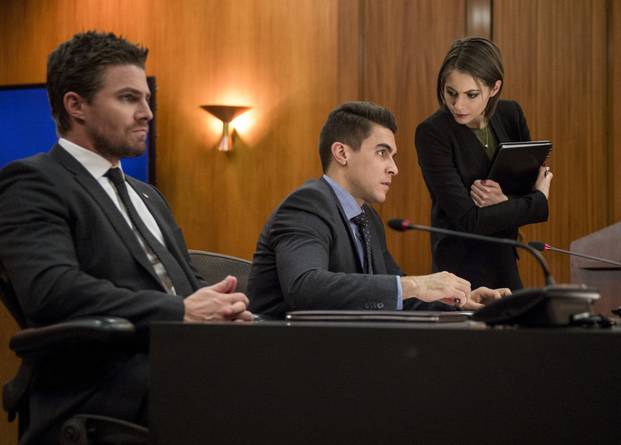 CW
The impeachment trial begins, and, after witness testimony from the coroner and the ACU chief, things don't exactly look good for Oliver. After the hearing, Adrian offers to speak with Pollard on Oliver's behalf, and Thea suggests turning the public against Malone to help Oliver's case. Of course, Oliver refuses. Vigilante confronts the team in the streets, shooting up their limo. Although Dinah and Thea put up a fight, Vigilante has the upper hand. Before he can kill Oliver, the SCPD shows up, and Vigilante runs off.
Adrian arrives at the scene and promises to keep the press away. Thanks to concussion protocol, Oliver heads to the hospital while Thea visits the bunker to assemble the troops. While there, Thea asks Felicity to find dirt on Councilman Kullens (the swing-vote in Oliver's trial). At the hospital, Dr. Schwartz (aka our friendly, neighborhood vigilante doc) suggests that Oliver find a friend to relieve the stress of being the mayor and the Green Arrow. Unfortuantely. Susan is still unwilling to speak with him.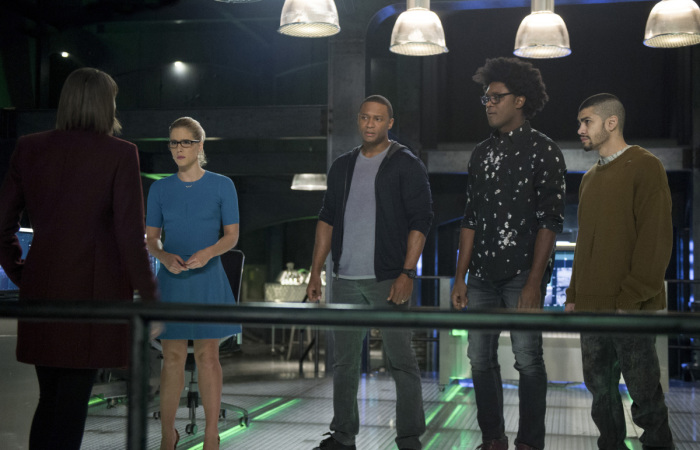 CW
Back in Russia, Anatoli explains that the code gives them the opportunity to call a vote and overthrow Gregor without a fight. Anatoli isn't convinced that the vote will go their way and says that they'll be killed if it doesn't. Oliver leaves to gather evidence that may sway the other Bratva members in their favor.
At the crime scene, Dinah finds a piece of Vigilante's mask that was knocked loose thanks to her Canary cry. Curtis thinks that he can use his T-Sphere's (or as Rene calls them, Curtis' Balls) to track the rest of the mask. Apparently, his call with Paul, which also came with a dinner invitation, was a great motivator to finish his project. Rene warns Curtis that his tech might not be enough to convince Paul to get back together, but Curtis is confident.
Meanwhile, Adrian notices Dinah with the mask sliver and takes it from her before she can bring it to Curtis. Later, Prometheus confronts Vigilante, telling him to leave Oliver Queen to him. The two fight, and Prometheus throws Vigilante off a roof (but, of course, he doesn't die). Finally, we get our first glimpse of Prometheus, and, lo and behold, it's DA Adrian Chase. That explains his suspicious behavior this entire episode.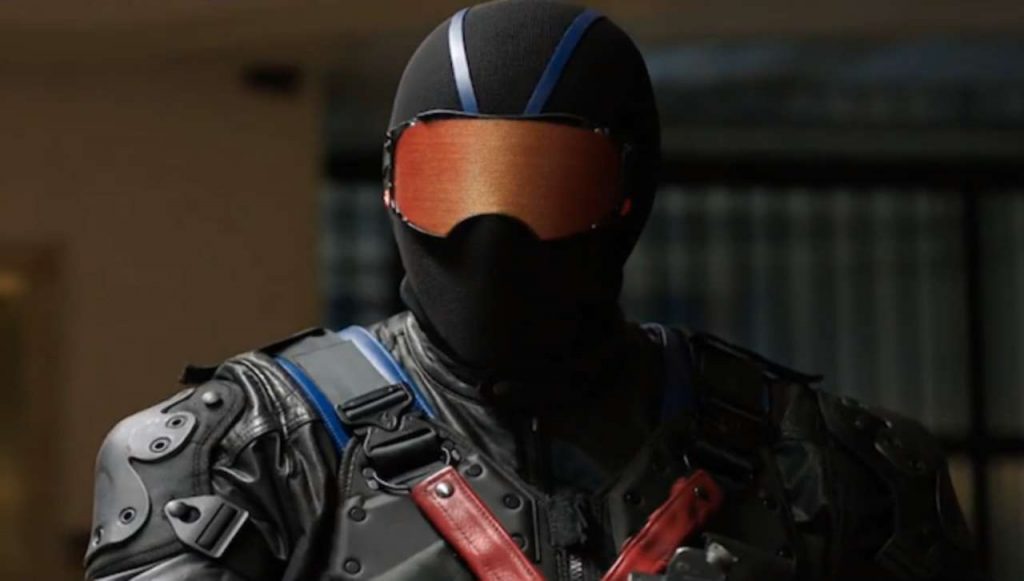 CW
Back in the bunker, Dig talks to Felicity again about her extracurriculars. She tells him about Thea's blackmail, and he tells her that she's not acting like her usual empathetic self. He says that, if she keeps fighting fire with fire, she's going to get burned. Meanwhile, at the precinct, Dinah steals the sliver of mask, which doesn't go unnoticed by Prometh -- I mean Adrian.
At City Hall, Oliver confronts Thea and urges her not to use her information about Kullens. He feeds her the "fighting fire with fire, get burned" lecture and asks her, if she's willing to play dirty now, where will she draw the line.
In another flashback, Oliver escapes his guards and gathers incriminating evidence against Gregor. In the present, Curtis gets his T-Spheres to work, and the team suits up to find Vigilante before he can assassinate Oliver. Meanwhile, Adrian suggests again that Oliver use him or Malone as a scapegoat. Instead, Oliver calls a press conference where he plans to throw the Green Arrow under the bus. So much for that partnership with the SCPD.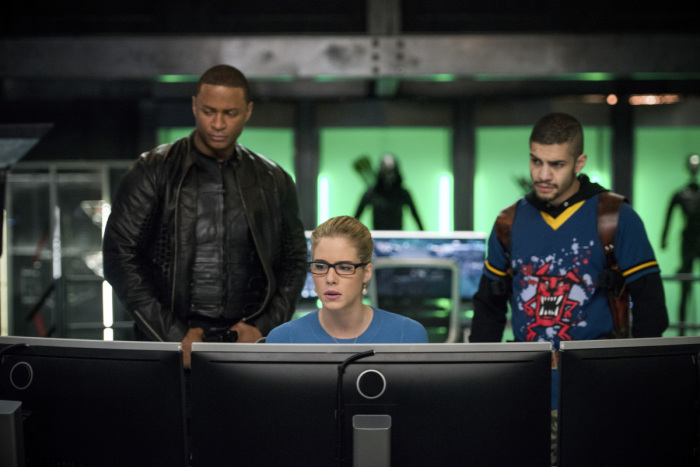 CW
The team tracks Vigilante to an abandoned building, where the criminal plans to shoot Oliver during his press conference, and he turns the blame on the Green Arrow. But, of course, Vigilante isn't going down without a fight. Thankfully, Curtis' T-Spheres also function as small bombs. After some rigorous fighting, Curtis uses his T-Spheres to stop Vigilante, saving Dig and Rene and finally convincing Wild Dog that he is indeed a badass.
Back at City Hall, the impeachment trial ends, and Oliver gets to keep his job. He also seems to have won a second chance with Susan, who got her job back and promises to keep his secret. Adrian, meanwhile, is still playing the part of colleague and friend. Oliver goes to tell Thea the good news but finds her packing. Apparently fighting fire with fire became too much, and now she needs to leave and try to fix her mistakes. Oliver reluctantly accepts her resignation, and she leaves.
In the final flashback of the night, the Bratva prepares to vote between Gregor and Anatoli. Before they can finish, Oliver offers up his evidence that Gregor has been taking more money from Kovar than he disclosed to the Bratva. The Bratva members revote and Anatoli comes out victorious. But, of course, Gregor wants to go down swinging, and the fire fight begins.
In the bunker, Oliver thanks the team and Curtis heads off for his date with Paul. Unfortunately, the meeting is less a date and more of a goodbye, ending with Paul serving him with divorce papers.
Later, Felicity takes a step over to the dark side and finally decides to join Helix. We end with Adrian confronting Susan with an "exclusive" story and what seems like a threat.
Final Thoughts
Well that was a lot of big changes for one episode! While I can't say that I'm completely surprised that Adrian is Prometheus, I will admit that I'm disappointed. I really liked his character and that Oliver seemed to have a friend that wasn't working for him as the Arrow. But, alas, that was too good to be true! 
Sidebar about Felicity: What the hell is our girl doing? She's been a hacktivist before! She knows how dark and dangerous things can get when you have too much information. No offense, but I just have a hard time believe that Billie's death could cause such a stark change in her! It's upsetting. Get it together, Overwatch!
Until next time, Arrowheads! Catch up on Arrow with Season 4 on DVD or Blu-Ray.