It's a meme as old as time itself: there's a badger, there's a mushroom, there's a Scottish castle. . . .
Wait, no, that's not right.
But that's exactly what happened at Craignethan Castle! The 16th-centtury Scottish monument was closed to the public this past week after a "very angry badger" blocked entry to a portion of the castle. According to property manager Historic Scotland, the badger "wandered in from the nearby forest" and just refused to leave.
The castle was built in 1530 with fortifications meant to withstand heavy artillery and sieges of the time. But no one expects a badger to seize control of a castle.
Maybe it was looking for Hufflepuff's Cup. . . .
We hear they can be particularly good finders.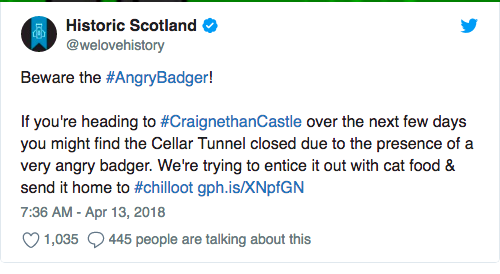 Historic Scotland wasted no time in updating their Twitter account to warn tourists away from the #AngryBadger near the Cellar Tunnel of the castle.
Some helpful Twitter users suggested the property managers try "feeding mushrooms, peanuts, and peanut butter" to the temporary Lord of the castle.
Photos taken later in the week showed the property to be badger-free. Apparently the early memes of yesteryear got it all wrong, and cat food really is the magic ingredient.
We hope you FOUND this as amusing as we did!