With season 3 of the The Mindy Project wrapped, eight film projects in the works for 2015, and 182 acting credits to her name, Beth Grant is one of the busiest ladies in Hollywood, but we sat her down just long enough for an interview.
Grant let us know that season 3 of The Mindy Project has wrapped, and we should hear any day now about season 4: "I feel positive, people love Mindy, and love the show. I think Mindy Kaling is incredible, and brilliant, and has such a voice. She supervises everything on the show. I have learned so much from her and the cast and the amazing team of writers about hard work and determination. Playing the part of Beverly is a dream come true. She has no filter, says anything bizarre or strange that comes to mind. Her character has allowed me to unleash some parts of me that I might restrain or hold back. My life is more free because of Beverly. So I give a big thank you to the writers. I have to say, I fell in love with Mindy when I was a guest star on the show. I was so amazed, I said 'This is a woman who has something to say.' Now, as a series regular on the show, I can say i have gotten so much more as an actor from being a part of The Mindy Project, than I have given to the show. Truly blessed everyday."
After we reminded her that she has 182 acting credits on IMDB, Grant shared that she loves to act. She loves the moment between action and cut: "My favorite projects are playing characters with a voice, and something to say. With fellow actors to add performances that make the difference in the outcome of the film."
She also adds that she will not just do any projects at this late point in her career. She is much more selective with roles: "I love my family. My daughter, Mary Chieffo, graduated from Julliard in May, and my husband, Michael Chieffo, is also a talented artist. We have many creative projects we are working on together, so I reserve time to collaborate with them. Family is all that matters in life."
She is also very excited to be creating projects that reflect "The Day of the Woman," as she calls it: "I am so excited about to hear about Hillary Clinton running for President. I love playing strong women. I just had the pleasure of working with James Franco. He directed me in Tenn, a bio on Tennessee Williams. We filmed it in January of this year. Such a wonderful script. I consider it the role of my life. The character was so much like my mom; it was a spiritual process. On set I felt like I channeled so many southern women of that time period, with desires, dreams, and family--I tried to give them a voice. I hear we should have our first cut this week, and so far they love what they are seeing. Another strong woman I got to portray recently on screen was Kristen Kessler in the film Consumed. It's a thriller about a mom looking for answers to her son's unexplained illness, and she gets caught up in the corporate intrigue of genetically modified foods." It has a wonderful cast, featuring Taylor Kinney and Danny Glover, and directed by the amazing Daryl Wein.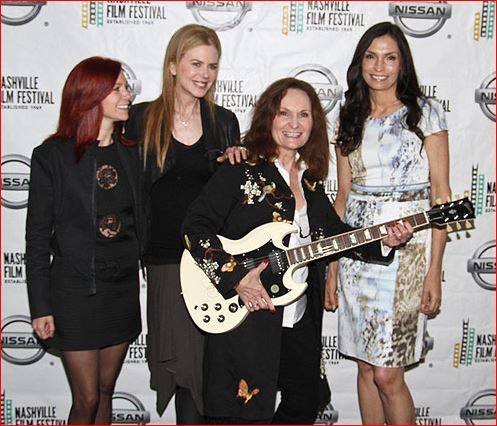 Beth Grant at the Nashville Film Festival, Women in Film panel with Oscar winner Nicole Kidman and other special guests.
Grant continues her journey in Hollywood and invites everyone to follow along, but be warned, she is showing no signs of slowing down, so you better try to keep up. Follow her official Facebook and Twitter accounts.
Keep Up With PopWrapped On The Web!