Justin Bieber isn't taking too kindly to the situation between his ex-girlfriend Selena Gomez and The Weeknd! Upon leaving a restaurant in West Hollywood last week, the "Sorry" singer and bad boy Bieber was asked by TMZ what he thought about Canadian-born singer The Weeknd's music, to which he responded, "The s***s wack!"
Bieber and Gomez began dating in 2011 and were favored as one of the most adorable young couples around that time. They made their first on-stage appearance in 2010 at Dick Clark's New Year's Rockin' Eve. Although young, it was clear the two were head over heels for one another -- often being pictured holding hands and gazing into each other's eyes -- at the beginning of their A-list romance. Gomez shared a diamond ring via Instagram in 2012, igniting rumors that the pair might be engaged. They weren't, but things seemed to be heading the right direction for the couple. They eventually broke up after six years of dating and seemed cordial. A few cheating scandals later and everything officially came crashing downhill when Selena posted this shady Instagram comment after Justin and Sofia Richie were spotted holding hands last August.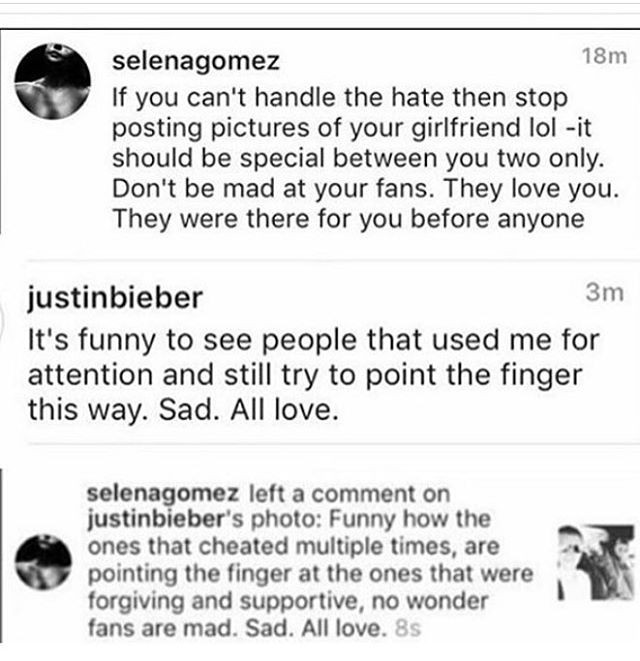 Glory News
Apparently, drama just follows these two! The Weeknd's 20-year-old ex-girlfriend, model Bella Hadid, is even getting in on the action. She unfollowed The Wizards of Waverly Place star on Instagram after a photo surfaced of the new couple -- Gomez and The Weeknd -- making out earlier this month. Hadid and The Weeknd had recently split up in November, and sources are reporting that she is "hurt" by how quickly he has rebounded. The 26-year-old "Party Monster" singer dated Hadid for 1 1/2 years when they decided to call it quits, citing their schedules just did not mesh because he's a superstar singer and she's a superstar model. 
Both parties should hash out their differences and completely move on before somebody else ends up hurt!