Greg Berlanti is one busy guy! On top of being a producer on Arrow, The Flash, Supergirl, Legends Of Tomorrow, Blindspot and the upcoming show Riverdale, he's now got another DC Comics TV show in the works.
This new one is about the character Black Lightning, one of comics' first African-American characters. His alter ego is named Jefferson Pierce. He's an Olympic athlete, teacher, and father who was born a metahuman and is able to manipulate and generate electromagnetic forces -- or lightning, in simpler terms. Both his daughters have powers, as well.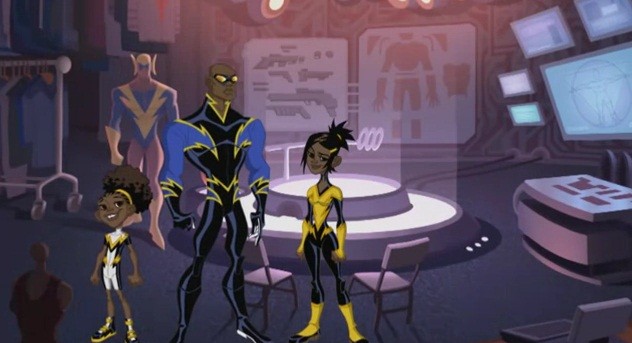 newearth2.com
The pilot will be written by Salim and Mara Brock Akil, and the general synopsis for the show is that Jefferson has retired as a hero but is forced back into the action when one of his students is recruited by a local gang (probably The 100, a gang Black Lightning fights a lot in the comics) and his daughter is determined to fight for justice.
Though it would be neat to see this show as part of The CW superhero lineup, the Black Lightning pilot was actually picked up by FOX, home to the other DC shows -- Gotham and Lucifer. But we all know that crossovers aren't completely out of the question since The Flash managed to crossover with Supergirl when it was still on CBS. Plus, in the comics, Black Lightning has ties to The Arrow and Superman, so it wouldn't be too unreasonable to see him interacting with that side of things. But first the series has to be picked up fully, so it'll be a while before we actually see the show on our screens!
Obviously, it's far too early to know any casting details, but that doesn't mean you can't fan-cast! Who would you love to see take on this role or any others in the story? Leave a comment telling us!