Knot Dice is a unique, Celtic themed set of dice designed by Matthew O'Malley. These beautiful looking dice are used to play a number of games and puzzles provided with the set. The booklets included provide 12 games and 60 puzzles.
The dice included are a nice large size at 20 millimeters. They are a pearlized dark green color with the knot patterns embossed in silver. They absolutely stand out in anyone's collection. When you see them, you want to know what game they are used for. The only concern I had was when some of the silver peeled off several dice. This may have been from moving the dice around on a rough tablecloth during gameplay and appeared to just be excess material. Overall, the dice were of great quality.
There are two versions of Knot Dice. All the puzzles and games can be played with the standard set of 18 dice. The deluxe edition includes 36 dice and a gorgeous soft velvet dice bag embroidered with the Knot Dice logo. This allows you to play with more players in a couple of the games.

The games included are all short filler games ranging from 10 to 30 minutes. My personal favorite was Snakes, a press-your-luck game about driving your snake the furthest out of Ireland. Make risky moves and you can get a big lead, but don't risk too much or you'll get bit and lose your progress. It is a great thrill when you roll a bunch of straight segments or when you can use all your dice. Physically getting your dice away from your opponents' was really satisfying, and, for those falling behind, it pushed you to play riskier and riskier. If you like real-time games all about speed, Knot So Fast is your game. However, I prefer relaxed dice games over the frantic ones. There is also a storytelling game and others with a little bit of strategy. Knot Dice has a great variety of games, so there is sure to be at least one you'll want to play again and again.
I'll admit I was more interested in the gaming side of Knot Dice, but the puzzles were also very enjoyable. The completion puzzles had restricted movement rules and felt to me like solving a two dimensional Rubik's Cube. You have a messed up pattern that needs to be rearranged (see photo below). They were addictive and a great mind exercise. If your friends or kids are always obsessing over the puzzle game of the moment (you know, Candy Crush, 2048, etc.), Knot Dice is a good way to get them away from their screens.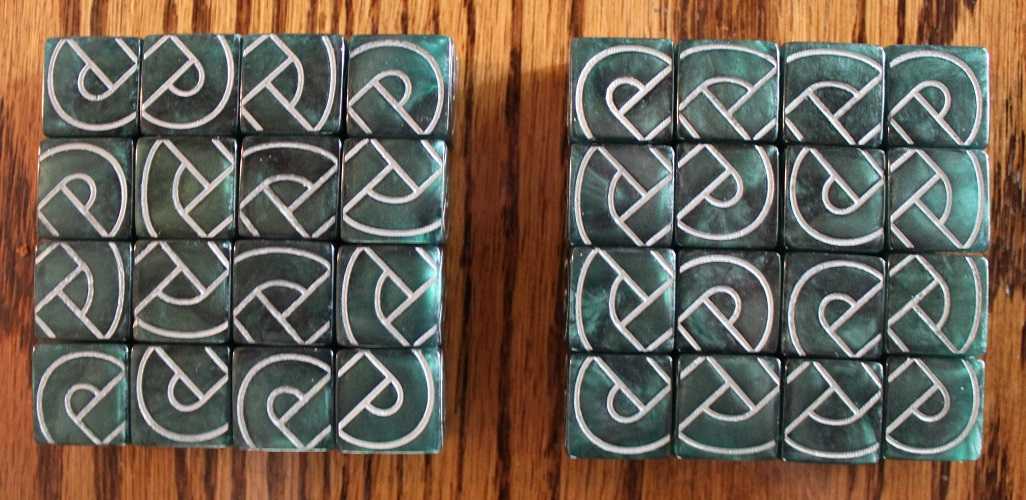 The theme and entire aesthetic of the game make it a great novelty gift for your friends of an Irish heritage. However, it has more appeal than just the obvious cultural connection. Whether you enjoy puzzles or tabletop games, Knot Dice has a little something for everyone. Flex your brain muscles to visual a puzzle solution, roll like a maniac, or get creative and weave together a tale. At the very least, it makes a cool display item for your shelf.
Find Knot Dice available for sale on the Black Oak Games website.