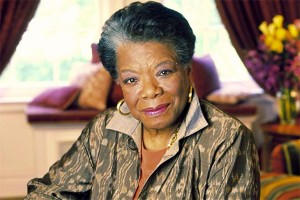 Shane Avery
Senior Staff Writer
@ShaneAvery
My heart is broken.
Iconic poet, civil rights advocate and educator Dr. Maya Angelou has passed away at the age of 86.
While recovering from an undisclosed illness,  the writer of the classic
I Know Why The Caged Bird Sings
, passed away in her North Carolina home, according to her literary agent Helen Brann. Her tragic passing comes days after she cancelled an appearance in Houston, where she was set to receive the Beacon of Life Award. Angelou has also received more than 30 honorary degrees from different universities all over the world. In fact, Angelou left the world with some sage words on her Facebook page just yesterday:
And now we come to the day where we can honor the brave men and women who have risked their lives to honor our country and our principles. Our history is rife with citizens who care and who are courageous enough to say we care for those who went before us.
PopWrapped sends its deepest condolences to Maya's family and friends during this difficult time. RIP Maya.
Keep Up With PopWrapped On The Web!