Stacey Bosley
Staff Writer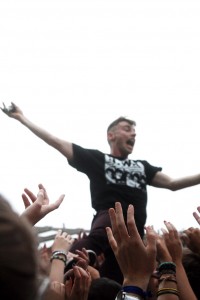 Property of Stacey Bosley/PopWrapped
New Politics
New Politics is a dance-rock band that hales from Copenhagen, Denmark and let me tell you they know how to put on a show. Lead singer David Boyd is a performer, with a capitol P. He not only wins the award for best dance moves of the night, but at one point during their set he stepped off the stage and into the hands of the fans who held his feet while he engaged the crowd over their heads. He then trust-fell into the audience and crowd surfed back to the stage. You can tell these guys love what they do and still feel amazed that they get to do this every day. New Politics gives you great vocals, catchy lyrics and music that makes you want to dance. What more could you ask for?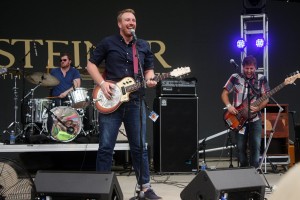 Property of Stacey Bosley/PopWrapped
Bronx Radio Return
This group from Hartford, Connecticut was a total surprise for me. With a folk-rock sound that is different enough to keep you listening, Bronx Radio Return is the kind of music that makes you want to roll down your windows, tap along to the beat and smile. Their song "Further On" is to be featured in an upcoming Bill Murray movie, and I have a feeling that movie goers will be just as enamored by their sound as festival goers were. Do yourself a favor and check out their newest album
Up, On & Over,
available on iTunes.
Bear Hands
If MGMT and Vampire Weekend had a baby who was cooler than both parents, that baby would be Bear Hands. This band just released their sophomore album,
Distraction
to solid reviews earlier this year reaching #10 on the alternative music charts. The band, made of members Dillon Rau, Val Loper, Ted Fedman and TJ Orscher, are from Brooklyn, New York and have been playing together since 2006. Their music makes me want to dance like a fool. I listened to their new album my whole drive home. Other great performances by Cults, Young the Giant, Red Wanting Blue and Empire of the Sun rounded out Bunbury 2014 and left fans already anticipating next years festival! Feeling like you missed out on the 2014 festival goodness? Tickets for 2015 are already on sale at
Bunbury's website
. Be sure to check out the gallery below for more exclusive shots from my favorite performances! [gallery type="slideshow" ids="52671,52670,52668,52669,52667,52672,52673,52674,52675,52676,52677,52678,52679"]
Keep Up With PopWrapped On The Web!