Cards Against Humanity is not just for late night parties with your friends anymore! The card company known for making us laugh and cringe (sometimes in the same beat) has bought a section of the United States border.
This will makCare is harder for President Donald Trump to build his wall.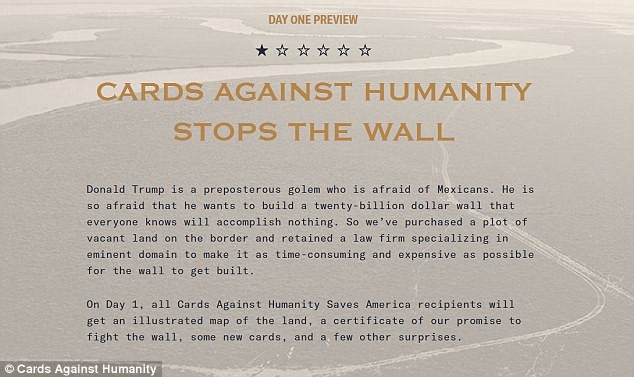 During his campaign, then presidential hopeful Trump promised to make a wall between the United States and Mexico in an attempt to keep American jobs. Cards Against Humanity (CAH) said they wanted "to make it as time-consuming and expensive as possible for the wall to get built."
U.S Customs and Border Protection personnel began testing prototypes in October.
CAH has provided us with holiday chuckles with a political agenda before. In 2016, they brought us the "Holiday Hole," which was just a giant hole. When asked about its significance, the company said they dug it to show "how everything in America is going really well."
Customers who bought their $15 holiday pack received a map to the hole's location, a certificate of "our promise to fight the wall," a few other surprises, and some new cards to add to their deck.
This year, they are fulfilling that promise to fight the wall. They even hired a team of lawyers "specializing in eminent domain to make it as time-consuming and expensive as possible for the wall to get built."
Unfortunately, the company is not answering individual questions about their new project, but welcome customers and supporters to check out their vehemently anti-Trump FAQ.
Fans were alerted to CAH's "Saves America" campaign via the company' Twitter page. CAH tweeted that the "government is being run by a toilet" and for just $15, customers can join the good fight right along with them!
The government is being run by a toilet. We have no choice... we are going to save America and attempt to keep our brand relevant in 2017

Join in and for $15 we'll send you six America-saving surprises this December: https://t.co/o1BFmokO9W

— CardsAgainstHumanity (@CAH) November 14, 2017