It is with heavy hearts that we report that, at age 60, Carrie Fisher has been confirmed dead. Fisher suffered a massive heart attack on a flight from London to Los Angeles on Friday, December 23rd. She was rushed to hospital, and her family (and dog) quickly gathered. Though her mother, Debbie Reynolds Tweeted out that Fisher was in stable condition recently, things clearly took a turn for the worst.
Fisher's daughter, actress Billie Lourd, confirmed the death in a statement this morning, saying that "she was loved by the world and she will be missed profoundly. Our entire family thanks you for your thoughts and prayers."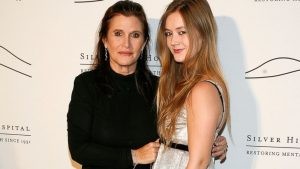 abcnews.go.com
Best known for her role as Princess Leia in the legendary Star Wars franchise, Fisher was in London doing press for her book, The Princess Diarist.
In her 60 years, Fisher overcame a lot and still managed to keep her wit and charm. She will be deeply missed, not only by loyal Star Wars fans.
RIP Carrie Fisher, October 21, 1956 - December 27, 2016