The loss of Carrie Fisher took many of us by surprise after her sudden death, but it seems that, even in death, she's giving us reasons to smile.
At the combined funeral for Fisher and her iconic mother, Debbie Reynolds, Todd Fisher was spotted at the private ceremony holding a porcelain urn with Carrie's ashes. The best part? The urn
 looks just like a giant Prozac pill.
"We couldn't find anything appropriate," said Todd of where his sister's remains would be placed. "It was in her house. Carrie would like that. It was her favorite thing, so that's how you do it."
The famous mother-daughter duo died within a day of each other -- Fisher after suffering a heart attack, Reynolds of a stroke the day after. Carrie Fisher and Reynolds were buried together at Forest Lawn Memorial Park in Hollywood Hills.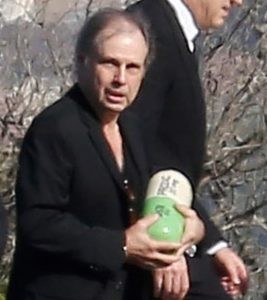 Clint Brewer / Splash News
Fisher's rise to fame was in her iconic role as Princess Leia Organa in the Star Wars franchise. Fisher was also well known for her openness for discussing her struggles with drug addiction and bipolar disorder.
Carrie Fisher was forward when it came to talking about her issues with mental illness, and, according to Todd, the porcelain urn was one of her favorite possessions that she had bought in the past.
"That's my way of surviving, to abstract it into something that's funny and not dangerous," said Fisher in an interview. "It is not an entertainment. I'm not going to stop writing about it, but I have to understand it."
Fisher was remembered for her humor, which was also reflected in her only request for her obituary. In a discussion with George Lucas about her outfit in the first Star Wars film, Lucas told her that she couldn't wear a bra under the dress because there is "no underwear in space."
"I promise you this is true, and he says it with such conviction, too," Carrie Fisher explained. "Like he had been to space, looked around and he didn't see any bras or panties or briefs anywhere."
Fisher went on to explain Lucas' logic was that a person's body becomes weightless in space and essentially expands while the bra doesn't, resulting in a person getting "strangled by your own bra."
"Now I think that this would make for a fantastic obit," Fisher said of the idea. "So I tell my younger friends that no matter how I go, I want it reported that I drowned in moonlight, strangled by my own bra."