Cats meet the world of Sherlock Holmes in Purrrlock Holmes: Furriarty's Trail, the upcoming board game from IDW Games. Help the world's most famous (and furriest) detective track down the devious Furriarty in what will, hands down, be the cutest board game you play this year. The game plays with two to five players and lasts about 30 minutes. Not a lot of specifics are known about the gameplay for Purrrlock Holmes, but this theme alone is quite exciting. How can you say no to cute artwork and cat puns?
Here is the case briefing from the publisher: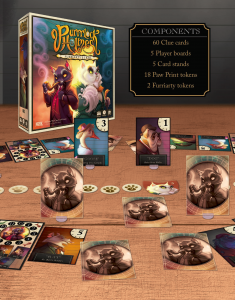 IDW Games
Furriarty is terrorizing London and it's up to Purrrlock Holmes to stop him before he completes his plans and escapes! However, Purrrlock cannot do it alone and it is up to you, as a newly inducted Inspector at Scotland Pound, to bust members of Furriarty's gang in order to help Purrrlock get closer to the bewhiskered baddie that's been bullying all of Baker Street. Get ready Inspector, the case is officially afoot (or a-paw, if you will).
Purrrlock Holmes will include 60 clue cards, 5 player boards, 5 card stands, 18 paw print tokens, and 2 Furriarty tokens. Purrrlock Holmes was designed by Stephen Sauer, the Canadian board game designer who previously created The Walled City and Caffeine Rush, among others. The beautiful artwork is done by Jacqui Davis. Davis has done art for many board games, including special editions of Viticulture. Purrrlock Holmes: Furriarty's Trail will be on sale in June 2017.
IDW Games is the publisher who brought us Machi Koro and Cat Tower. They've also released great games based on film and TV properties such as Orphan Black, The Godfather, and Back to the Future. Sign up for the IDW Games newsletter or follow them on Facebook and Twitter to be the first to see updates on Purrrlock Holmes!