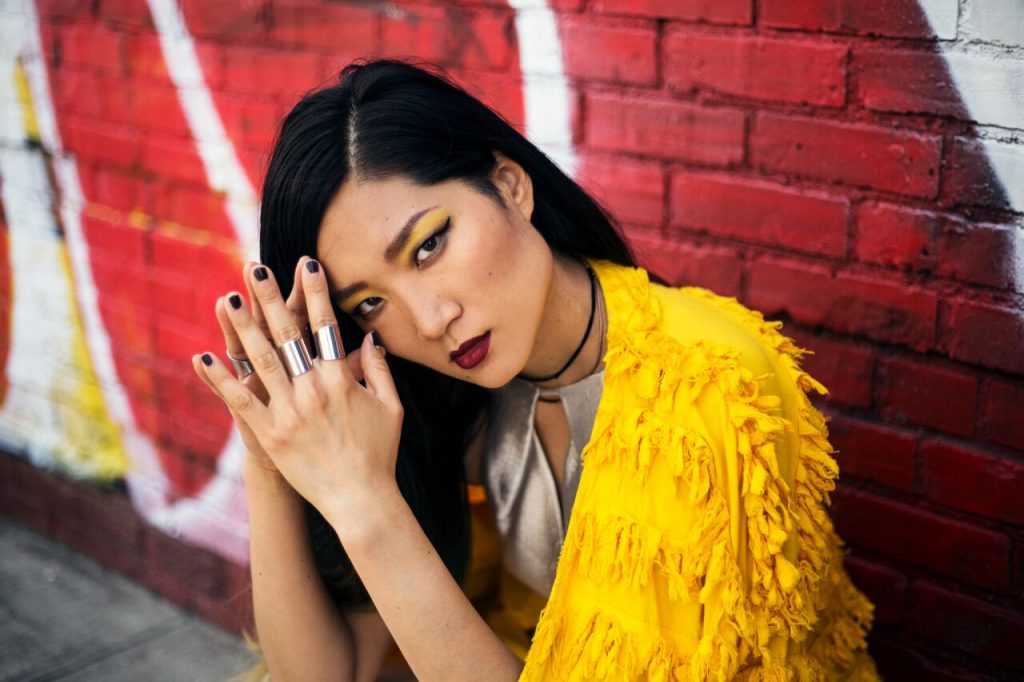 Charlene Kaye, or KAYE, as she is known now, is taking the music world by storm. Here at 
PopWrapped, we were thrilled to have the chance to talk to her about her music, her new EP, Honey, and much more. 
PopWrapped: What are your earliest memories connecting with music?
Charlene Kaye: I remember being highly receptive to music as a kid -- from listening to Whitney Houston in the car with my mom on the drive to school to hearing my dad playing Frank Sinatra and singing (in his signature tone-deaf warble) around the house. I remember being 10 years old and dropping everything to listen to Mariah Carey's "Always Be My Baby" when I heard it playing on our kitchen radio -- that song and Selena's "Dreaming of You." 
PW: When did you know you wanted to be a musician?
CK: I started to dream of being a musician for real after I fell in love with guitar. I had always taken classical piano lessons, but it always felt like work because I was a hopelessly inept sight-reader. I've always been more of an aural learner, so, suddenly, being able to play punk-y, power chord-y songs of Blink 182 and Jimmy Eat World gave me this incredible sense of power. It enabled me to start messing around and writing some of my first (terrible) songs, and thus opened the snake pit!!
PW: How did your parents feel about you wanting to be a musician?
CK: My mom grew up in Singapore with seven other siblings. Her family was very poor -- her dad left when she was young, and her mom worked as a housemaid. There were a lot of mouths to feed, and it was less about success than it was about survival. So, when I told her I wanted to pursue music, she was primarily freaked out about its instability -- the fear that I wouldn't be able to support myself. She didn't have the luxury of following her passion, which is such a quintessentially American idea -- the idea that we are all unique and that our dreams will be fulfilled if we work hard enough. But I was like: you came to America so that my sister and I could be whatever we wanted -- and doing music is my dream, my American dream. I'd be doing a disservice to you and myself if I worked some 9-5 I didn't care about instead. She's come around, though, and is now incredibly supportive -- I've been doing this for a long time now, and she knows I wouldn't be happy doing anything else.
PW: You've spoken about your heritage and the role it plays in your career on NPR. Is being Asian American something you ever struggled with in your youth, and how have your feelings about it changed over the years?
CK: Of course, I had many moments of insecurity about my heritage as a kid. I was one of the few Asians at a mostly white school in Arizona, and all the cool kids were white. I remember wanting to dress like them, act like them. And, then, when I got more interested in music, I grew up with the idea there was a certain standard for how pop stars were supposed to look and act. And I think in the '90s and early 2000s, there WAS a different standard for how they were supposed to act because we were in the throes of the boy band era, and Britney Spears was huge -- everyone wanted to look just like her and have abs just like hers, and there wasn't -- and still isn't -- much Asian American representation. Which is why I got excited about Michelle Branch (who is half Indonesian) and Mike Shinoda of Linkin Park (who is Japanese). I took what I could get, and I held on to it!
Now, as an adult, I'm very comfortable with who I am, and I'm proud to carry the torch for other Asian American artists trying to make our voices heard. Like Constance Wu and Aziz Ansari, who have been wonderfully outspoken about Asian American visibility in Hollywood, I want to be a voice for young Asian American girls who don't think they can be rock stars because they don't see anyone that looks like them. As President Obama said, "It's hard to be what you don't see."
PW: Have you gotten any backlash for being this outspoken about Asian American visibility?
CK: Yes, I've gotten a few trolls tweeting awful things at me -- which means I'm probably doing something right!! It doesn't bother me, though. It's not going to be a comfortable thing for some people, and that's fine. Music and politics have always been intertwined. If I don't use the platform I have to incite change for the better, what's the point of having one?
PW: What were some of your formative albums growing up?
CK: Prince - Musicology; 
Joni Mitchell - Blue/Court & Spark; 
Sufjan Stevens - Illinois; 
Incubus - S.C.I.E.N.C.E.; 
Jimmy Eat World - Bleed American ... 
And all of the *NSYNC/Britney/Destiny's Child albums there ever were!!
PW: Do you think the next release you put out will be musically similar to the Honey EP or totally different?
CK: I think my producer (Elliot Jacobson) and I have really stumbled upon a really unique sound with this EP, and I'm interested to explore it more. I consider the guitar as much of a tool of expression as my voice these days, so it will definitely still be in a rock vein but with pop goals. I love the idea of creating R&B music with insane metal guitars. There's so much I want to do.
PW: What would you like to say to your fans and all those who have supported you?
CK: So many of you have stuck around since the beginning -- 2009, when I was starting out with Darren and StarKid -- and I just want to say that I don't take it for granted. I appreciate every single one of you who's taken the time to listen to this EP, and I promise to create the best work I can for you, as long as I can. 
Thanks for chatting with us, Charlene!