While fans of The Secret Life of the American Teenager might be familiar with his face, fans of Dukes of Hazzard might be more familiar with his last name. We sat down for a PopWrapped exclusive Q&A with rising actor Chasen Schneider, son of the talented John Schneider, to see what he's been up to and where he's going!
--
PW: When did you decide that acting was something that you really wanted to pursue?
Chasen: I started acting when I was very young in plays and all that jazz and I really enjoyed it. When I really decided I wanted to do it was when I saw The Aviator with Leonardo DiCaprio.  I was 12 years old, I always loved movies, but this movie really struck me. The main character was a tortured genius who saw the world in a very different way. That was the first film I remember being drawn to what an actor was doing, and I wondered how did he portray that character. I was just amazed the amount of layers he brought to playing the character of Howard Hughes. Watching such a good performance made me take the acting I did at school more seriously. Two years later I attended the Columbia Gorge School of Theatre a wonderful place to attend. So for anyone reading this article interested in acting check it out, it's still around. Got to be in a wacky play that summer and realized I can make a career out of this. and so I began.
PW: What did you learn from your time at the London Academy of Music and Dramatic arts?
C: I learned that this industry is very hard. You have a lot of people demanding a lot of things from you. Not everything is going to go your way no matter how many hours you put in.  I learned never lose sight of who you are and what you bring to the table. The instructors wanted us to learn there was more than one method to acting. Take what you want from this teacher or that one, but in the end its up to you to figure out how you want to act. At the end of the day you can get tools and skills and feedback, and a place where you can practice, but no one can teach you how to act. You decide for yourself. You learn by doing it. I also learned you really have to pay attention to every aspect of the performance.
PW: How old were you when you were cast as a series regular on The Secret Life of the American Teenager? What did you learn working on that production?
I was 16 when I started the show. I had only done theatre before that, so I think the thing I learned was it's mostly on you to do your homework. Because in theatre you have rehearsals. Discussions with the director about your character, even extra scene rehearsals with your partner, or the ensemble cast. But with television it's all on you. Most shows have 22 episodes a season, that's a lot of footage to shoot in a short amount of time, so you just don't get that. You show up on set, you get one blocking session, maybe one rehearsal, and that's it, your shooting. With television you just have to be prepped and ready with whatever you have to do to make this character a character before you go on set. But don't over prepare, always be ready for your fellow actor to bring out something in you, that you didn't even know you had.
PW: What age were you when you realized your dad was famous, and what was your earliest memory of visiting him on set?
C: I was pretty young, but I figured it out by 6 or 7. People would come up to my dad and say, "Oh my God, you're John Schneider!" I loved watching Dukes of Hazzard with you on it. Every year we would go to Disney World with my dad's charity Children's Miracle Network that he co-founded with Marie Osmond. So we would get to fly down and I noticed people would always want his picture. He was always very generous with taking pictures. As long as he was not in the toilet or sitting down for a meal. He was always just my dad, he was on tv and he did movies but he was always just daddy. I remember very vague memories of visiting on the set of Dr. Quinn Medicine Woman, my first major memory was on the set of Smallville. He would actually read his audition lines with me. He would read Jonathan Kent and I would read Clark's lines.
PW: Tell me a little about your two up coming films Anderson Bench and Heartland. Both shot at John Schneider Studios down in Louisiana.
C: Heartland was first I filmed that one last December. I play Kevin and my scenes were we shot in a living room made to look like an artsy dorm room with books and painting. We had an amazing director Steven Esteb he was very professional, very in-charge, and knew what he was going to shoot. He made me feel very comfortable. Then came Anderson Bench I get to shoot down on the lake with a big gator. Lots of fun sets on the studio. One scene was on an abandoned lot, another a suburban house, even a bamboo forest or spooky woods and we got to film it all there. Just within a few square miles. I had a funny scene in the film where I try to hold up a restaurant, and that was the only scene not filmed on the studio.
PW: What are some tips you've gotten from your dad about acting and life in general?
C: My dad has always said to me, "If you can remember how you did it, then it probably wasn't any good." I really believe that. He meant it in regards to acting in a scene. You were probably more focused on yourself and WHAT you were doing, rather than focusing on the other person and what you want from them. That will help you be in the moment and not over rehearsed, which is another thing he says that I really like. There is a criticism that I always hate as an actor; for example, let's say you're watching John Wayne in one of his later films like True Grit. People will say he was "just being John Wayne" in that movie. It's a ridiculous criticism because has John Wayne ever played an alcoholic sheriff in the Old West with an Asian sidekick? No, he is acting! It's B.S. to me. An actor's job is to communicate the play or the film to the audience. That's the job, and if he does that by playing a mostly familiar character I don't think there is anything wrong with that.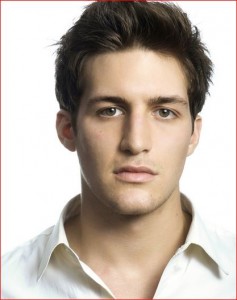 PW: You're going to have a role in A Midsummer Night's Dream at the "Shakespeare in the Swamp" event at John Schneider Studios in August. Tell us about your role in that event!
C: I play Flute, a great character in the play. The concept was my idea of A Midsummer Night's Dream, that it was still magical but dark in some ways. Something a little sinister about what the fairies are doing. It came about when I was doing the original play, and taking an accent class learning the Louisiana accent. I said, "You know what? This play can really work set in the Louisiana swamp!" Sometimes when you take Shakespeare and try to change the setting it doesn't always work, but this time it works. It's interesting because the material of the play deals with magic and fantasy, and down in Louisiana they still believe in all of those things, ghosts, and magic. It's a very haunted state. It also plays into class, social status, who you can and can't marry. Also played a big part in Louisiana's history. The mystical forest is very much like the bayous of Louisiana. My idea puts a great twist on the material, and it just works.
We invite you to visit John Schneider Studios in Louisiana to check it out this August! Perry Martin is our amazing director. It will be during the weekend of August 29th and we will have 3 performances that weekend. (Keep and eye on JS Studios' social media for more details!)
--
Please continue to follow Chasen's journey on his Twitter! We're sure you'll be seeing more of him to come!