Kate McHale
Senior Staff Writer
Girl Meets World
premiered June 27, which was not nearly soon enough for many fans! The much-anticipated sequel to the hit '90s show
Boy Meets World
immediately brought fans into a nostalgic state of mind. Fans quickly established that Riley (Cory and Topanga's daughter) had a bond with her best friend Maya, similar to the one shared between brothers-from-another-mother Cory and Shawn. The two girls are just bound to get into trouble, much to Cory's chagrin. Of course, the main question is what
Boy Meets World
character is the
new generation of fans
going to get the pleasure of seeing in
Girl Meets World
? Well, seeing as Minkus has a child in Cory's class (I know,
shocking 
that Cory's the new Feeney) a cameo or two is bound to happen. Farkle, a Minkus clone, has already made fans fall in love with his quirky yet nerdy attitude. Unfortunately for fans that are eager for more episodes like yesterday, we have to wait until July 11
th
at 8:30 EST to dive back into the Matthews' household! People who haven't watched the series premier of
Girl Meets World
will be thrilled to know the electrically dynamic chemistry that has always been there between Cory and Topanga is indeed still alive! Make sure you check out the trailer to see what to look forward to! Riley even has a chance to have a longtime romance like her parents did, and trust me, he's a cutie! Sound off fans; what did you think of the premier?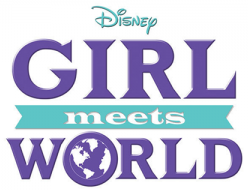 Courtesy of Disney
Keep Up With PopWrapped On The Web!