Just after 1 pm on December 31, 2016, a 24-year-old man became the last murder victim of the year in Chicago during a road rage incident which ensued after he hit another driver's Mercedes-Benz. This would mark the 762nd homicide out of a population of 2,695,598 in the Windy City, pinning them with such nicknames as "Chiraq" and "Killinois." This widespread bloodshed has left Americans -- specifically the city's natives -- questioning the motive and means of so much violence. Many are pointing fingers on who to blame.
ABC News contributor John Cohen is a homeland security and law enforcement expert who offered an explanation as to why we have seen such a quick increase in violence in major cities, citing the following: an increase in availability of illegal guns, an increase in gang activity, and law enforcement's increased willingness to enforce crime prevention policies. Poverty and the failing economic state may also be a factor.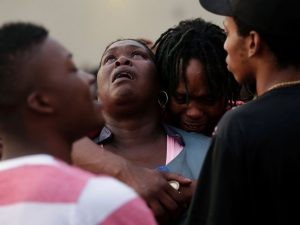 ABC News
Chicago's official data does not include area expressway murders, self-defense murders, and police shootings, which would bring the total number of homicides to around 781 -- a 56% increase from the previous year. There were 12 killings in Chicago over Christmas weekend alone. This has been their most violent year since 2001, when the city saw 667 murders.
Gun violence skyrocketed from 2,939 in 2015 to 4,331 in 2016. That equals over 1,300 more shooting victims. Chicago has a no open carry law, which means citizens will be charged if an unconcealed firearm is spotted. Citizens are allowed to conceal carry, but this is contingent upon specific locations. Areas such as schools are prohibited.
Chicago's strict gun laws have not been impactful on lowering crime rates, but many continue to suggest a "call to action" from legislature. Chicago Police Superintendent Eddie Johnson says his law enforcement team will implement a new strategy for 2017, and he is hopeful the city will see a major change in the violence. New police initiatives are set to take effect in hopes to ultimately make Chicago a safer city.
Astonishingly enough, Chicago is not the murder capital of the U.S. According to a survey chart in New York Mag, St. Louis, Missouri is. Murder rates are calculated per 100,000 people. There were 60 homicides per 100,000 in St. Louis compared to Chicago's which was around 16 per 100,000 last year.